This is an archived article and the information in the article may be outdated. Please look at the time stamp on the story to see when it was last updated.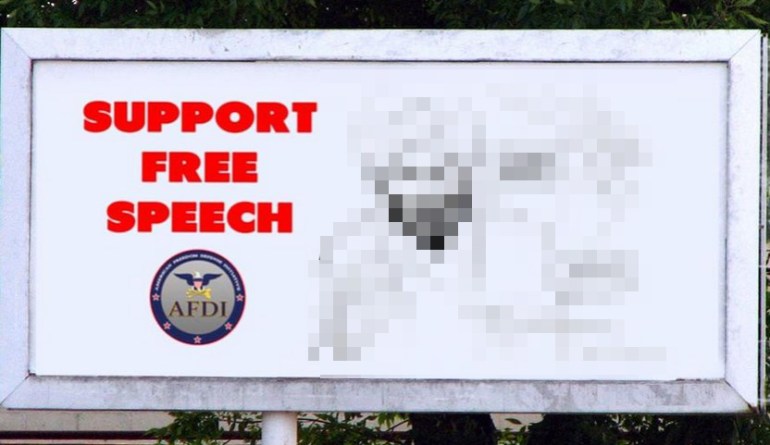 ST. LOUIS, MO (KTVI) – Several billboards with cartoons of the Prophet Muhammad have been placed around St. Louis by the American Freedom Defense Initiative. It is part of a nationwide campaign to support free speech. They claim to have 100 billboards in the area.  Some have been spotted in south St. Louis and by Lambert-St. Louis International Airport.
Depictions of the prophet are considered extremely offensive by Muslims.  Critics call AFDI an intolerant hate group opposed to freedom of religion.
A Prophet Muhammad cartoon contest was held by AFDI in Texas last month.  Gunmen showed up to put an end to the event.  They were shot and killed by police.
The billboards are being condemned by the St. Louis Cabinet of Interfaith Partnership. It represents 29 faith groups in the area.
We, the members of the Cabinet of Interfaith Partnership, reaffirm our commitment to work toward equality for all our citizens. As we seek to tear down the racial disparities and prejudices that divide us, we remember a fundamental principle of all of our faith traditions—that we are called to treat others as we wish to be treated.

Billboards with cartoons of the Prophet Muhammad have been posted in the St. Louis area. Our Muslim friends and neighbors, and 1.2 billion Muslims around the world, regard it as an offense to depict the Prophet Muhammad in any way through pictures and drawings.

As we seek meaningful change and healing, let us honor the basic tenets of others. Let us pray for understanding of the pain of others. Let us hear one another. Let us commit to creating real solutions that bring an end to unequal treatment and unequal opportunity. Let us all help build a more just and peaceful community.

Interfaith Partnership includes 29 different faith groups in the St. Louis area. Our motto: "As communities of faith, we agree to differ, promise to love, and unite to serve."
A statement from AFDI says in part:
"Because the media and the cultural and political elites continue to self-enforce the Sharia without the consent of the American people by refusing to show any depictions of Muhammad or showing what it was in Texas that had jihadists opening fire, we are running a billboard ad featuring the winning cartoon by former Muslim Bosch Fawstin from our Muhammad Art Exhibit and Cartoon Contest in Garland, Texas."
FOX 2 has not posted the depiction of the Prophet Muhammad in respect to those who practice Islam in our community.  The same policy applies to offensive symbols to Christian, Jewish or any other religions.