This is an archived article and the information in the article may be outdated. Please look at the time stamp on the story to see when it was last updated.
NORFOLK, VA (WTKR) -- Viewers are taking action for a homeless man who is looking for a family for Thanksgiving. We received dozens of emails from viewers volunteering to adopt him for the day and more! Viewers contacted the TV station about helping Neal out.
Neal Shytles has been living at the union mission in Norfolk for more a year. He reached out to WTKR-TV to help connect him with someone that would take him in. Nowm he is in for a very happy thanksgiving.
"I really appreciate, you know, you and WTKR because none of this would've happened. You know, and I'm really thankful and it's going to really mean a lot at Thanksgiving," says Neal.
It was Ashley McLemore and her husband Cory, a military couple in Newport News, that reached out to Neal first.
"He started crying and then I started crying and we were both crying," Ashley McLemore says.
"I was crying when she called me and I had to excuse myself because I was emotional," Neal says.
Ashley got in touch with him through calling the Union Mission in Norfolk, where Neal's been staying for the past year and a half.
This is the ad Shytles posted to Facebook.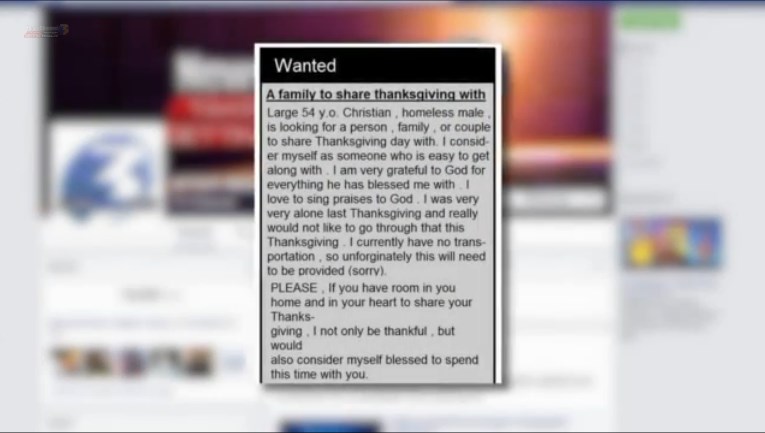 To reach out to Neal his address is below:
C/O Neal Shytles 5100 East Virginia Beach Blvd. Norfolk, VA 23502 (757) 627-8686
For more on the Union Mission Mission and to donate:
https://unionmissionministries.org/
Click here to visit the Facebook page created for Neal. 
By Doris Taylor