This is an archived article and the information in the article may be outdated. Please look at the time stamp on the story to see when it was last updated.
(KTVI)-- A Jefferson County young mother`s journey from health to drug addiction has left her family devastated.  Her brother and aunt  reached out to FOX 2 asking that her story and the photographs that illustrate the impact of drug addiction be shared.
The Jefferson County Prosecutor charged 26-year-old Lacey Kertz  this week with abuse and neglect resulting in the death of a child.  Authorities arrested her on the felony after a six month investigation into the morphine intoxication death of her 22-month-old son Carson Swyres.  Kertz is currently being held in the Jefferson County Jail on no bond.  Authorities say they do not yet know how the child ingested the morphine.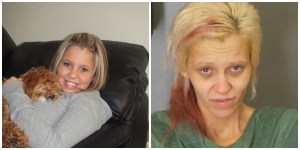 Josh Kertz, the young mother`s half-brother spoke fondly of his sister calling her a 'very beautiful person' who was kind, loving and caring and a mother who at one time put her kids first.  "The drugs just tore her apart.  Ever since then, Lacey hasn`t been Lacey," he said.
Kertz and his Aunt Della Bantle traced her drug habit to painkiller medicine prescribed by a doctor after she was injured in a head-on collision during her teen years.   Kertz said she was able to spend money from an insurance settlement on street drugs when her prescriptions ran out.
"She`s done meth, morphine, cocaine, pretty much every drug you can think of she`s tried it."
Bantle recalled Lacey as a sweet, but determined youngster who thrived in foster care after her own mother became addicted to drugs.  She was a cheerleader at Desoto High School and a good student who went on to attend college classes at Jefferson College in Hillsboro.
"She never wanted no part of that kind of life," Bantle said, adding  "That disturbs me to think that such a beautiful, good, determined girl that wanted no part of drugs, didn`t want it in her life whatsoever would let it control her."
Lacey Kertz`s police mug shot shows an emaciated woman with haunting eyes.  Comparing that to a family photo taken when she was about 19 years of age and healthy  provides a dramatic contrast.
Relatives including Bantle shared their concerns about Kertz`s drug addictions in reports to Missouri`s child abuse hotline over recent years.  "I don`t think they were staying on top of it," said Bantle.  Carson`s older half-brother was removed from the home just weeks before Carson`s death.   "If the courts were taking one child out of the house, why were they leaving this other one there?" asks Bantle.  "Somebody dropped the ball and poor little Carson paid the ultimate price."
Jefferson County mom charged with neglect in son's death
Betsey.bruce@tvstl.com
On Facebook Betsey Bruce on FOX2
Betsey Bruce onTwitter