This is an archived article and the information in the article may be outdated. Please look at the time stamp on the story to see when it was last updated.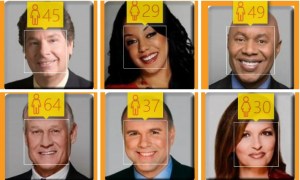 You're only as old as you think you are.
Or in this case, as old as a computer algorithm thinks you are.
In a machine learning experiment that's taken social vanity to new heights, Microsoft has created a website that tells you how old you look just by analyzing your photo.
Upload a selfie, wait a few seconds — then the machine gives you the cold, hard truth.
And since it can analyze anyone's photo, you can compare yourself to your friends, family, and foes.
But guessing someone's age is a dangerous game, even for a robot. That's probably why the site comes with a sheepish apology. "Sorry if we didn't quite get the age and gender right," it says after each result.
The company unveiled the website at a conference Thursday as a way to show off its new face detection software, which could eventually make its way into a slew of new apps.
We took it for a spin. Sometimes it's dead on. Other times it's hilariously, outrageously wrong.
Try it here:  http://how-old.net