This is an archived article and the information in the article may be outdated. Please look at the time stamp on the story to see when it was last updated.
UPDATE: Wayne Hubert has bonded out of jail.
O'FALLON, IL (KTVI) –  A baby boy dies after his father unintentionally leaves him strapped in a car seat in the family car in the heat of the day Thursday.
Charged with involuntary manslaughter of a family member and two counts of endangering the life of a child is Wayne Hubert, 32.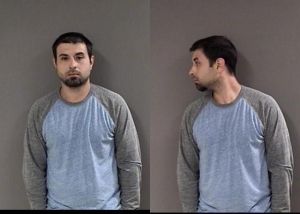 Police say 23-month-old Nathan Hubert had been left inside the car for about two a half hours. His body was discovered by his mother shortly after 5:00 P.M., when she got home from work.
"The father was preparing the children for an afternoon trip to one of our local parks at about 2:30 or so and forgot about the child," said O`Fallon Police Capt. Jeff Wild.
The criminal complaint says the child was left in the car because Hubert was intoxicated and passed out when he went back into the house.
Neighbors are stunned.
"I know there is no ill will involved here," said Keith Richter, who lives across the street from the Huberts. "They are just fantastic people so it`s a crying shame."
Investigators came to the home in the 300 block of Joy Drive in O`Fallon several times Friday, attempting to recreate the conditions that led to the baby`s death by parking the car in the same spot where they found it Thursday and taking temperature readings inside the car as it sat in the afternoon sun. The father had left one window partially open.
Richter says despite the unique circumstances, the case should serve as a reminder about the danger of a child being left inside a hot car for any length of time.
"You got to pay attention all the time because whenever there is a little one involved, especially in this kind of weather, something like that could happen," Richter said. "It doesn`t take long."
Bail was set at $250,000.
Friend me on Facebook:  facebook.com/PaulSchankmanTV
Follow me on Twitter: twitter.com/PaulSchankmantv
Email me:  Paul.Schankman@tvstl.com