This is an archived article and the information in the article may be outdated. Please look at the time stamp on the story to see when it was last updated.
ST. LOUIS, MO (KTVI) – A Jefferson County babysitter charged with multiple counts after a 10-month-old girl is found with a fractured skull.
Deputies arrested Katie Hartwig, 31, after the child's mother said the girl was lethargic and vomiting after being in Hartwig's care. Hartwig reportedly told investigators she threw the child to the floor when she wouldn't stop crying.
The St. Louis Post-Dispatch reports that the baby girl's mother returned home Monday afternoon and found her "sleeping face down on a couch."  She took her to St. Anthony's Medical Center before the baby was transferred to St. Louis Children's Hospital.
Doctors diagnosed the girl with a skull fracture, swelling and bleeding around the brain. They say the child's injuries were caused by "high force impact." Hartwig was arrested at her home at around 5pm Tuesday.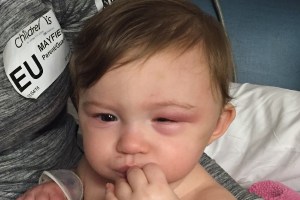 Family friend, Mary Pfingsten, 32, tells FOX 2 that, "The baby's skull is shattered."
Pfingsten also says the babysitter isn't a random person. Hartwig is a big part of Quinn's life. She been providing childcare for the baby's parents for most of the past year.  They felt comfortable having someone they knew take care of the baby. She says that this is out of character and the family is in shock.
The family has set up a GoFundMe account to pay for medical expenses.  The description of the page states:
"Our sweet baby Quinn was abused by her babysitter who was also our family friend. We are all so devastated and still in shock. Her skull was shattered by a person we cared for and trusted. She has a long recovery and between medical bills and time off work we would be so grateful for any help."
Hartwig is being charged with first-degree felony child abuse and misdemeanor counts of child endangerment and possession of marijuana and drug paraphernalia. She is being held at the Jefferson County Jail on a $100,000 cash-only bail.