This is an archived article and the information in the article may be outdated. Please look at the time stamp on the story to see when it was last updated.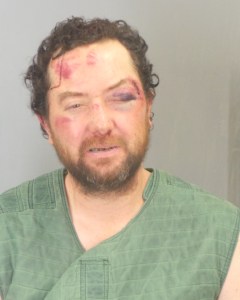 ARNOLD, MO (KTVI) – A 38-year-old Arnold man was formally charged for allegedly shooting a pizza delivery driver on Friday night and leading police on a bi-state chase, tossing homemade explosives at authorities along the way.
According to Captain Ron Arnhart, a spokesman for the Jefferson County Sheriff's Department, the shooting occurred around 9:30 p.m. March 13 at a mobile home park along Vogel Road. The suspect, identified as Todd Pigg, is accused of ordering a pizza, and then shooting the delivery driver when he arrived with the order.
Neighbors called 911 after the delivery driver came to his house looking for help. That neighbor was tending to the victim when Pigg came to the house looking for the victim.
When police arrived at the scene, Pigg led them on a car chase along I-55, I-64, and I-70, winding into Illinois and back to Missouri. The chase ended on I-170 and Page after police used spike strips to disable Pigg's vehicle. Pigg attempted to flee on foot, but was taken down by a K9 unit.
Police said that Pigg tossed homemade explosives from his car toward police vehicles during the chase. They did not detonate and police were able to recover the devices without incident.
Meanwhile, the delivery driver was rushed to a local hospital to be treated for gunshot wounds to the chest and back. He is expected to recover.
Todd Pigg was charged with first-degree assault and armed criminal action. Pigg remains jailed on $500,000 cash-only bond.