This is an archived article and the information in the article may be outdated. Please look at the time stamp on the story to see when it was last updated.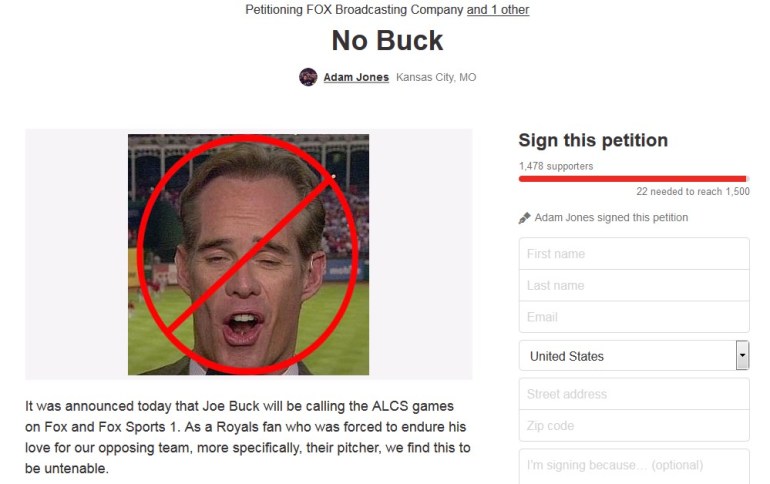 ST. LOUIS (KTVI) – A disgruntled Kansas City Royals fan has an unlikely ally in his push to keep Joe Buck out of the broadcast booth for the upcoming American League Championship Series – Buck himself.
On Thursday, Major League Baseball announced that St. Louisan and multi-time Sports Emmy Award-winner Joe Buck would handle play-by-play duties for the ALCS between the Royals and Toronto Blue Jays. A short time after that announcement, Royals fan Adam Jones launched a petition on Change.org asking Fox to keep Buck off commentary.
Jones' reason? Bias against the Royals.
In the petition, Jones cites Buck's perceived loved of the Royals' opponents in the 2014 World Series – the San Francisco Giants – or more specifically, Giants ace pitcher Madison Bumgarner.
For example, on October 29th, 2014, Joe Buck said Bumgarner 87 times, Giants 56 times, San Francisco 24 times, Kansas City 13 times, and Royals 8 times.
Jones tweeted a link to his petition shortly before 1 p.m. and it wasn't long before the petition came to Buck's attention.
Buck seemed to take things in stride:
Good luck. Rooting for you https://t.co/TdV2EapdqE

— Joe Buck (@Buck) October 15, 2015
He would later engage with fans who attempted to give him grief over his perceived bias toward Bumgarner:
Yes. We are registered at Rawlings and Bed Bath And Beyond. https://t.co/KaHEQRNsov

— Joe Buck (@Buck) October 15, 2015
You're right. I don't. It's my dislike of the British https://t.co/6TqZRusE4e

— Joe Buck (@Buck) October 15, 2015
The criticism stems from the longstanding belief from fans across the country that Buck calls games with an implicit bias against their particular team. It's a claim Buck has embraced in recent years, with amusing results.
I just didn't like your parents https://t.co/l64RBLpGzf

— Joe Buck (@Buck) October 15, 2015