This is an archived article and the information in the article may be outdated. Please look at the time stamp on the story to see when it was last updated.
WASHINGTON — The Justice Department formally closed its investigation of Ferguson Police officer Darren Wilson, declining to bring criminal charges for the killing of Michael Brown.
In a report released Wednesday, prosecutors said that "Wilson's actions do not constitute prosecutable violations" of federal civil rights law.
"There is no evidence upon which prosecutors can rely to disprove Wilson's stated subjective belief that he feared for his safety," the Justice Department report said.
Attorney General Eric Holder is expected to address the findings at 3 p.m. EST.
The Justice Department also issued a 100-page report that it said found systemic racial discrimination by the Ferguson police and court system against African-Americans.
Reports released by the Department of Justice:
The report will form a basis for the Justice Department's effort to reach a court-supervised agreement to require reforms at the Ferguson police and courts. Similar agreements, known as consent decrees, are in force with multiple police agencies around the nation, including New Orleans and Cleveland.
The report provides the Justice Department's account to answer some of the most controversial issues in the case, including whether Brown was an aggressor and whether Wilson killed Brown as he was trying to give up.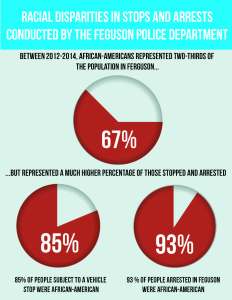 The Justice Department investigation found that Brown reached into Wilson's squad car and that a struggle ensued. Prosecutors couldn't corroborate Wilson's claim that Brown reached for his gun, but couldn't find any evidence to disprove Wilson's account. Brown moved at least 180 feet away from Wilson, but then turned and moved toward the officer, prosecutors said. Several witnesses claimed that Brown had his hands up, signaling surrender, when Wilson shot him. Some gave varying accounts, and some later recanted those claims made in media interviews.
The report says: "While credible witnesses gave varying accounts of exactly what Brown was doing with his hands as he moved toward Wilson — ie, balling them, holding them out, or pulling up his pants — and varying accounts of how he was moving — i.e. 'charging,' moving in 'slow motion' or 'running' — they all establish that Brown was moving toward Wilson when Wilson shot him."
St. Louis County Prosecutor Robert McCulloch and his office were hammered by critics for the handling of the Grand Jury that did not indict Officer Darren Wilson.  McCulloch said, "I assume all the critics will rethink their position at this point now or they level the same criticism against the Department of Justice."
In a separate report, the Justice Department described what it said was a "pattern and practice" of discrimination against African-Americans by the Ferguson police and municipal courts.
The department suggested 26 recommendations, including requiring the Ferguson police to providing training to ensure officers aren't using bias in policing; that officers practice community policing by getting out of their cars and getting to know their communities; and that the police focus stops, searches and ticketing on protecting the public instead of as a fundraising method for the city's coffers.
The investigation found that the Ferguson police and courts used minor traffic and other violations to raise money for the city, targeted African-American motorists for traffic infractions, and black residents disproportionately for violations such as jay walking.
The report issued on the Ferguson police's practices cites racist emails exchanged by city employees to show a culture that abetted discriminatory behavior.
"Our review of documents revealed many additional email communications that exhibited racial or ethnic bias, as well as other forms of bias. Our investigation has not revealed any indication that any officer or court clerk engaged in these communications was ever disciplined," the report says.
Nor did they ever see cases of someone asking others to refrain from sending such emails or reported as inappropriate.
A March 2010 email mocked African Americans through speech familial stereotypes, using a story involving child support. One line from the email read: "I be so glad that dis be my last child support payment! Month after month, year after year, all dose payments!"
An April 2011 email depicted President Barack Obama as a chimpanzee.
A June 2011 email described a man seeking to obtain "welfare" for his dogs because they are "mixed in color, unemployed, last, can't speak English and have no frigging clue who their Daddies are."
An October 2011 email included a photo of a bare-chested group of dancing women apparently in Africa, with the caption, "Michelle Obama's High School Reunion."
A December 2011 email included jokes that are based on offensive stereotypes about Muslims.
According to the report, each of these email exchanges involved supervisors of the Ferguson patrol and court operations.
A Justice Department official told reporters that some of the emails were sent by people still involved in helping to negotiate a settlement with the Justice Department. The Justice Department declined to identify them.
City officials informed the Justice Department that "while many FPD supervisors have their email accounts on hard drives in the police department, most patrol officers use a form of webmail that does not retain messages once they are deleted."
According to the report, members of the community recall officers using epithets in public:
In August 2014, an African-American man was having an argument when officers responded and the man was pulled out of his apartment. He responded "you don't have a reason to lock me up" officer responded "N—–, I can find something to lock you up on". Man responded 'good luck with that'. Cop then slammed man's face into a wall and when he fell said "don't pass out motherf—–, because I'm not carrying you to my car."
In July 2014, a man described walking with friends past a group of Ferguson officers who shouted racial epithets at them as they passed.
Related news: Ferguson officials to comment on DOJ report, treatment of African Americans
City of #Ferguson DOJ statement pic.twitter.com/wSzWNyWNw5

— FOX2now (@FOX2now) March 4, 2015
Statement from the parents of Michael Brown, Jr. regarding the DOJ's #Ferguson announcement pic.twitter.com/tK376Wuxtx

— FOX2now (@FOX2now) March 4, 2015
Statement from the Justice Department:
Justice Department Finds a Pattern of Civil Rights Violations by the Ferguson Police Department

 WASHINGTON — The Justice Department announced the findings of its two civil rights investigations related to Ferguson, Missouri, today. The Justice Department found that the Ferguson Police Department (FPD) engaged in a pattern or practice of conduct that violates the First, Fourth, and 14th Amendments of the Constitution. The Justice Department also announced that the evidence examined in its independent, federal investigation into the fatal shooting of Michael Brown does not support federal civil rights charges against Ferguson Police Officer Darren Wilson.

"As detailed in our report, this investigation found a community that was deeply polarized, and where deep distrust and hostility often characterized interactions between police and area residents," said Attorney General Eric Holder. "Our investigation showed that Ferguson police officers routinely violate the Fourth Amendment in stopping people without reasonable suspicion, arresting them without probable cause, and using unreasonable force against them. Now that our investigation has reached its conclusion, it is time for Ferguson's leaders to take immediate, wholesale and structural corrective action. The report we have issued and the steps we have taken are only the beginning of a necessarily resource-intensive and inclusive process to promote reconciliation, to reduce and eliminate bias, and to bridge gaps and build understanding."

"While the findings in Ferguson are very serious and the list of needed changes is long, the record of the Civil Rights Division's work with police departments across the country shows that if the Ferguson Police Department truly commits to community policing, it can restore the trust it has lost," said Acting Assistant Attorney General Vanita Gupta of the Civil Rights Division. "We look forward to working with City Officials and the many communities that make up Ferguson to develop and institute reforms that will focus the Ferguson Police Department on public safety and constitutional policing instead of revenue. Real community policing is possible and ensures that all people are equal before the law, and that law enforcement is seen as a part of, rather than distant from, the communities they serve."

Attorney General Holder first announced the comprehensive pattern or practice investigation into the Ferguson Police Department after visiting that community in August 2014, and hearing directly from residents about police practices and the lack of trust between FPD and those they are sworn to protect. The investigation focused on the FPD's use of force, including deadly force; stops, searches and arrests; discriminatory policing; and treatment of detainees inside Ferguson's city jail by Ferguson police officers.

In the course of its pattern or practice investigation, the Civil Rights Division reviewed more than 35,000 pages of police records; interviewed and met with city, police and court officials, including the FPD's chief and numerous other officers; conducted hundreds of in-person and telephone interviews, as well as participated in meetings with community members and groups; observed Ferguson Municipal Court sessions, and; analyzed FPD's data on stops, searches and arrests. It found that the combination of Ferguson's focus on generating revenue over public safety, along with racial bias, has a profound effect on the FPD's police and court practices, resulting in conduct that routinely violates the Constitution and federal law. The department also found that these patterns created a lack of trust between the FPD and significant portions of Ferguson's residents, especially African Americans.

The department found that the FPD has a pattern or practice of:

· Conducting stops without reasonable suspicion and arrests without probable cause in violation of the Fourth Amendment;
· Interfering with the right to free expression in violation of the First Amendment; and
· Using unreasonable force in violation of the Fourth Amendment.

The department found that Ferguson Municipal Court has a pattern or practice of:

· Focusing on revenue over public safety, leading to court practices that violate the 14th Amendment's due process and equal protection requirements.
· Court practices exacerbating the harm of Ferguson's unconstitutional police practices and imposing particular hardship upon Ferguson's most vulnerable residents, especially upon those living in or near poverty. Minor offenses can generate crippling debts, result in jail time because of an inability to pay and result in the loss of a driver's license, employment, or housing.

The department found a pattern or practice of racial bias in both the FPD and municipal court:

· The harms of Ferguson's police and court practices are borne disproportionately by African Americans and that this disproportionate impact is avoidable.
· Ferguson's harmful court and police practices are due, at least in part, to intentional discrimination, as demonstrated by direct evidence of racial bias and stereotyping about African Americans by certain Ferguson police and municipal court officials.

The findings are laid out in a 100-page report that discusses the evidence and what remedies should be implemented to end the pattern or practice. The findings include two sets of recommendations, 26 in total, that the Justice Department believes are necessary to correct the unconstitutional FPD and Ferguson Municipal Court practices. The recommendations include: changing policing and court practices so that they are based on public safety instead of revenue; improving training and oversight; changing practices to reduce bias, and; ending an overreliance on arrest warrants as a means of collecting fines.

The Justice Department will require that the recommendations and other measures be part of a court-enforceable remedial process that includes involvement from community stakeholders as well as independent oversight. The Justice Department has provided its investigative report to the FPD and in the coming weeks, the Civil Rights Division will seek to work with the City of Ferguson and the Ferguson community to develop and reach an agreement for reform, using the recommendations in the report as the starting point.

The federal criminal investigation into the fatal shooting of Michael Brown sought to determine whether the evidence from the events that led to Brown's death was sufficient to prove, beyond a reasonable doubt, that Wilson's actions violated federal civil rights laws that make it a federal crime for someone acting with law enforcement authority to willfully violate a person's civil rights. As part of the investigation, federal authorities reviewed physical, ballistic, forensic, and crime scene evidence; medical reports and autopsy reports, including an independent autopsy performed by the U.S. Department of Defense Armed Forces Medical Examiner Service; Wilson's personnel records; audio and video recordings; internet postings, and; the transcripts from the proceedings before the St. Louis County grand jury. Federal investigators interviewed purported eyewitnesses and other individuals claiming to have relevant information. Federal prosecutors and agents re-interviewed dozens of witnesses to evaluate their accounts and obtain more detailed information. FBI agents independently canvassed more than 300 residences to locate and interview additional witnesses.

The standard of proof is the same for all criminal cases: that the defendant committed the crime beyond a reasonable doubt. However, unlike state laws, federal criminal civil rights statutes do not have the equivalent of manslaughter or a statute that makes negligence a crime. Federal statutes require the government to prove that Officer Wilson used unreasonable force when he shot Michael Brown and that he did so willfully, that is, he shot Brown knowing it was wrong and against the law to do so. After a careful and deliberative review of all of the evidence, the department has determined that the evidence does not establish that Darren Wilson violated the applicable federal criminal civil rights statute. The family of Michael Brown was notified earlier today of the department's findings.

Due to the high interest in this case, the department took the rare step of publicly releasing the closing memo in the case. The report details, in over 80 pages, the evidence, including evidence from witnesses, the autopsies and physical evidence from the analysis of the DNA, blood, shooting scene and ballistics. The report also explains the law as developed by the federal courts and applies that law to the evidence.