This is an archived article and the information in the article may be outdated. Please look at the time stamp on the story to see when it was last updated.
ALTON, IL (KTVI) – Alton police send three robbery suspects to jail with help from a Wood River canine officer.  Alton Police Chief Jason Simmons says it was Sunday night when a call was made for a pizza delivery to the 200 block of Lampert Street.   No one answered the door.
Simmons said while the worker tried to determine what was going on, someone arrived on the porch and said the pizza was for him.  That's when police say the worker was robbed.
"(He) was tackled from behind, had the pizza and the small amount of money he had in his front pocket taken," said Simmons.
Simmons said there were a total of three suspects.  Two of them are 18 years old.  The other suspect is a juvenile.  Simmons says they ran away.  When police arrived, they found footprints in the snow.  Alton Police did not have a canine officer on duty but neighboring Wood River Police did.
Wood River Officer Chris Alfaro responded with his canine partner Ordi.  Ordi picked up a scent and tracked the suspects to a nearby home.  Police say the suspects were still eating the pizza.  The address given for the delivery turned out to be a vacant home.
"We were there pretty quick, and so the scent was very crisp in the air," said Simmons.
He did not think the smell of pizza contributed to Ordi's success.
"I believe the dog was trained on actually the foot prints in the snow, because they were so fresh," said Simmons.
Ariana Edwards and Alonzo Matlock are now charged with robbery, a class 2 felony.
"We will work with the Madison County State's Attorney's office to make sure that these people get full punishment for what they did," said Simmons.
He said his department has investigated similar crimes in the past.  "They usually end with an arrest, Simmons said.  "We take these cases very, very seriously."​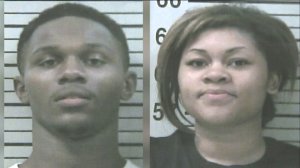 Follow Jeff Bernthal on Facebook and Twitter:
Jeff Bernthal on Facebook
Jeff Bernthal on Twitter
Email: jeffrey.bernthal@tvstl.com