This is an archived article and the information in the article may be outdated. Please look at the time stamp on the story to see when it was last updated.
ST. LOUIS – In a presidential debate filled with nasty remarks and insults, audience member and uncommitted voter Ken Bone became an internet sensation after posing a question to the candidates.
"What steps will your energy policy take to meet our energy needs while at the same time remaining environmentally friendly and minimizing job loss for fossil power plant workers?" he asked Hillary Clinton and Donald Trump.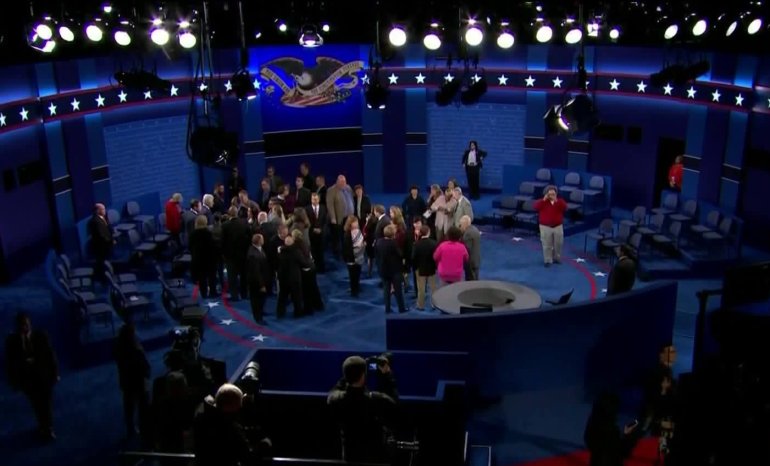 While Bone's question was well-intentioned, his overnight fame was fueled by his snazzy red sweater, white shirt-tie combination, his thick mustache, his disposable camera and of course, his catchy name, according to social media.
Ken Bone is a power plant operator who lives in Belleville. He is originally from Granite City.
How did he get picked to ask a question during the debate? Bone has been answering Gallup polls for a number of years.
"Yesterday I had seven Twitter followers and two of them were my grandma. That is because she forgot her password and had to do it over. Now I have a couple hundred. It seems bizarre to me, that people care what I have to say. I was just glad, through this red sweater ridiculousness, that people are becoming more engaged in the political process. My big message is that: Your voice is being heard.
I always assumed that these town hall participants were given a question to ask and it was a dog and pony show. That is absolutely not the case. I came up with that question myself. I talked to the producers about it. The campaigns never got to hear it.
I would have liked to hear more from Mr. Trump about environmental protection. I would have like to hear more from Secretary Clinton about protecting the jobs of our fossil plant workers. Overall I think they both did pretty well," said Ken Bone.
#KenBone became a top trending topic on Twitter with more than 94, 000 tweets mentioning him as of early Monday.  On Facebook, his name was also among the most talked about topics.
A Facebook user with the name Kenneth Bone Leep-Sills and similar appearance to the distinguished audience member quickly embraced the attention on his account, updating his profile picture with a snapshot of Sunday evening's debate.
"It was a long day yesterday. We were here for about 14 hours, sequestered. I had this really nice olive suit that my parents love to see me in. I gained about 30 lbs over the last year. When I got into my car to come here I tore the seat out of my pants. I had t move to plan B.
It isn't the most trendy thing I've ever worn. But, I'm not the most trendy guy either," said Ken Bone.
Why do you think you became "Internet famous"?
"Realistically, I'm huggable and people were drawn to that. But, I like to think that people recognize that I'm just a regular guy. If my voice can be heard then their voice can be heard," said Ken Bone.
You were undecided last night. Are you decided now?
"I was leaning to Trump but Secretary Clinton gave some good answers. I liked the way she kept her composure despite the personal attacks. I' going to wait for the last debate to make my final decision. You never know what can happen," said Ken Bone.
Social media continued to praise Bone through the night, some even calling him the hero of the political showdown.
From #KenBone on @TMASTL: My red sweater was Plan B. I actually had an olive suit, but I split the rear of my pants getting in the car.

— Tim McKernan (@tmckernan) October 10, 2016
Ken Bone, our nation's greatest hero. pic.twitter.com/1fKCfT7q1M

— Jacob Tellijohn (@Jacob_Tellijohn) October 10, 2016
"Hey, weird, I have 4,000,000 text messages" – Kenneth Bone in 2 minutes when he looks at his phone #debate

— Jensen "Mutie Pie" Karp (@JensenKarp) October 10, 2016
#KenBone #Halloween this is awesome https://t.co/OJU1zQkqAT

— Andy Banker (@andybankertv) October 10, 2016
I hope this trending on #kenbone stays good-natured as he seems like a nice normal guy.And honestly we need some good natured fun right now!

— Mike Taberski, EdD (@DrMikeTaberski) October 10, 2016
https://twitter.com/ellie_mir/status/785322906112753665
Tonight.. A star was born. World, meet Kenneth Bone. Ken Bone, meet the world. https://t.co/O9zMvjicmh

— Jordie 🔵 (@BarstoolJordie) October 10, 2016
https://twitter.com/LizHackett/status/785311150531448832?ref_src=twsrc%5Etfw
Ken Bone was the 6th member of Bone Thugs N Harmony. #debate

— Adam Newman (@Adam_Newman) October 10, 2016
Ken Bone rides off into the sunset #debate #kenbone pic.twitter.com/4BjaI985zr

— Matt (@Matt_Campbe) October 10, 2016