This is an archived article and the information in the article may be outdated. Please look at the time stamp on the story to see when it was last updated.
TROY, MO - A Lincoln County woman has been charged with animal abuse and neglect after 30 animals had to be rescued from her home. On October 23, 2018, the Lincoln County Sheriff's Office and the Humane Society of Missouri's Animal Cruelty Task Force rescued 23 dogs, four birds, and one rabbit from the home of Michele Hogarth-Dove, 56, on Bear Creek Trail near Truxton. A dead horse was also discovered.
Officers who entered the home said it had a heavy ammonia smell and there was no food or water for the animals.  Some of the dogs had matted coats and were underweight.  A few had injuries consistent with dogfighting. The Humane Society of Missouri and the Lincoln County Sheriff's Office had been working to improve the conditions for the animals with the owner, but no progress had been made and authorities got a warrant to remove the animals.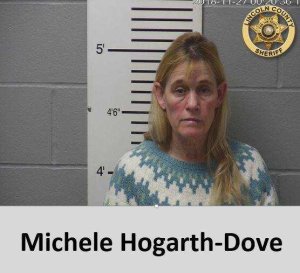 After looking at the veterinarian health report, a judge ruled that the animals would remain in the care of the Humane Society. The Sheriff's Office applied for charges.
Hogarth-Dove is charged with two counts of Animal Abuse and six counts of Animal Neglect or Abandonment. She is being held in the Lincoln County Jail under a $15,000 cash only bond.
The animals have been cared for at the Humane Society's Macklind Avenue facility.