This is an archived article and the information in the article may be outdated. Please look at the time stamp on the story to see when it was last updated.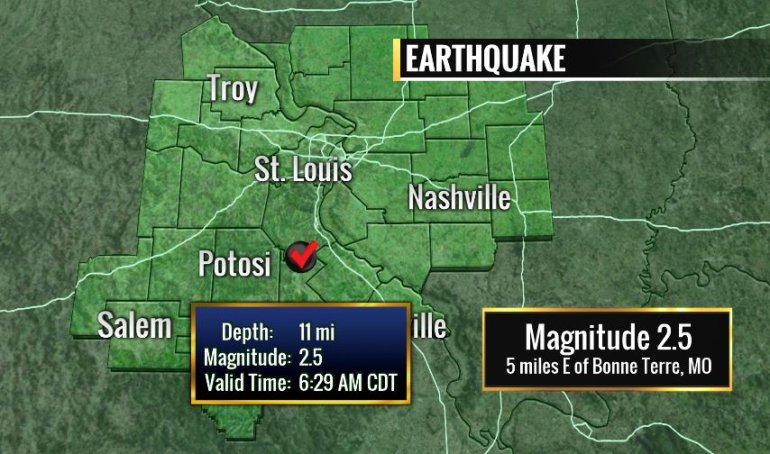 BONNE TERRE, MO (KFVS) – A small earthquake shook the New Madrid seismic zone nearly 60 miles from St. Louis Tuesday morning. The United States Geological Survey reports the magnitude 2.6 quake hit about five miles east northeast of Bonne Terre, Missouri just after 6:30am.  Let the USGS know if you felt it.  It will help firm up details in their report.
It was a small quake. But, several earthquakes have rattled the same area in 2017.
The probability for magnitude 6 New Madrid earthquake a few years ago was put above 90% in 50 years. The USGS changed the figures in 2002 to 25-40% for a magnitude 6.0 or greater. They gave a 7 – 10% for a catastrophic event in any 50-year period, based on all new science. The chances for a magnitude 6 were decreased, but chances were slightly increased for the catastrophic events.
The USGS describes the seismic zone as:
"The New Madrid seismic zone of southeast Missouri and adjacent States is the most seismically active in North America east of the Rockies. During the winter of 1811-1812 three very large earthquakes devastated the area and were felt throughout most of the Nation. They occurred a few weeks apart on December 16, January 23, and February 7. Hundreds of aftershocks, some severely damaging by themselves, continued for years. Prehistoric earthquakes similar in size to those of 1811-1812 occurred in the middle 1400's and around 900 A.D. Strong, damaging earthquakes struck the southwestern end of the seismic zone near Marked Tree, Arkansas in 1843 (magnitude 6.3), and the northeastern end near Charleston, Missouri in 1895 (magnitude 6.6). Since 1900, moderately damaging earthquakes have struck the seismic zone every few decades. About twice a year people feel still smaller earthquakes that do not cause damage.
Earthquakes in the central and eastern U.S. are typically felt over a much broader region than in the western U.S. East of the Rockies, an earthquake can be felt over an area as much as ten times larger than a similar magnitude earthquake on the west coast. A magnitude 4.0 eastern U.S. earthquake typically can be felt at many places as far as 100 km (60 mi) from where it occurred, and it infrequently causes damage near its source. A magnitude 5.5 eastern U.S. earthquake usually can be felt as far as 500 km (300 mi) from where it occurred, and sometimes causes damage as far away as 40 km (25 mi)."