This is an archived article and the information in the article may be outdated. Please look at the time stamp on the story to see when it was last updated.
NORMANDY, MO (KTVI) – A Normandy man was shot and killed execution style while working in his own front yard Wednesday. The Major Case Squad has been called in to help track down his killer.
Investigators say Mark Nunn, 30, was using a weed trimmer in his front yard on Bermuda Court in Normandy when someone came up behind him and shot him in the head.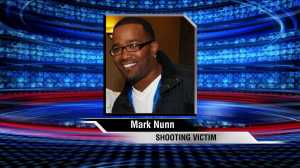 It all happened about 12:30pm Wednesday.
The Major Case Squad now has 17 detectives working on the investigation.
There is no official word on a motive, but investigators say they believe that Nunn was targeted.
Major Case authorities say Nunn had some criminal history, including felonies, and investigators are looking into whether Nunn's background could have played a role in his demise.
Nunn lived at the home with his girlfriend, their one year old baby and another friend.
The girlfriend wasn't home when the shooting happened.
But the other friend says he had just gone inside with the baby when Nunn was killed.
That friend heard what he thought was a gunshot then looked outside to find Nunn on the ground.
Major Case investigators call the crime "bold"- shooting someone in the head in broad daylight.
A neighbor called 911 and ran to help Nunn, but it was already too late.
Police say Nunn is survived by his parents and four other children all under 10 years old.
Police are actively seeking information relative to a later model Dodge Durango, SUV, gray in color, with dark tinted windows as the driver/occupants may prove to have information regarding this incident.
Callers with information may contact the St. Louis Regional Crimestoppers at 866-371-8477 or via the web at stlrcs.org, you may remain anonymous. A reward is being offered up to $ 1,000 dollars.
You may also contact the Major Case Squad at 314-889-2341.