This is an archived article and the information in the article may be outdated. Please look at the time stamp on the story to see when it was last updated.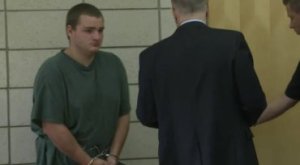 AMES, Iowa  A criminal complaint says a top amateur female golfer from Spain died after being repeatedly stabbed by a homeless man at a course near her university campus in Iowa.
A complaint filed Tuesday charges 22-year-old Collin Daniel Richards with first-degree murder in the slaying of Celia Barquin Arozamena, who attended Iowa State University.
Barquin was found dead Monday morning in a pond at Coldwater Golf Links in Ames, about 30 miles north of Des Moines. She had stab wounds to her upper torso, head and neck.
The complaint says Richards was living in a tent in a temporary camp near the golf course and that he had allegedly told an acquaintance about his "urge to rape and kill a woman."
Officers say Richards had several scratches on his face and a deep laceration on his left hand. They recovered a knife in his possession.