This is an archived article and the information in the article may be outdated. Please look at the time stamp on the story to see when it was last updated.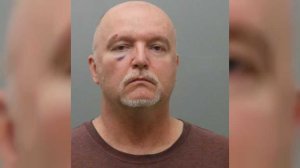 IMPERIAL, Mo. - St. Louis County police tell FOX 2 News that Thomas Bruce, 53, has been charged in connection with the murder and sexual assault at the Catholic Supply store in west St. Louis County on Monday.
The man was picked up by investigators at a home in Imperial, Missouri early Wednesday morning. He was being questioned by police.
Bruce is facing 17 counts including murder, sodomy, kidnapping, armed criminal action, burglary, and tampering with evidence.
Police say the gunman went into the Catholic Supply business posing as a customer Monday. He left, saying he needed to get a credit card to pay for items. He returned with a gun and forced people in the store into a back room where police said he committed the sexual assaults and murder.
Bruce was able to evade police until today. Police thank the public for the many tips that came in. Some of them led to Bruce.
Chief Jon Belmar thanked people for sending in tips to help solve this case. A video was posted to the St. Louis County Police Department's Facebook page with this caption: "We'd like to thank the public for all their input and patience as we investigated the heinous incident that occurred at the Catholic Supply store. As you may be aware, a suspect is in custody. We are sincerely grateful for all the information provided to us by the community and know that with your help we were able to solve this case. Every day, the St. Louis area proves that we are better together. Thank you. Have a great holiday."
Dan Shutte, president of Catholic Supply, issued the following statement Wednesday following Bruce's arrest:
"We are deeply relieved that an arrest has been made. Our sincere thanks to the St. Louis County Police Department for its dedication and excellent work. We are eternally grateful to our employees, customers and the community for the outpouring of support."
This is video from above the home where Bruce was arrested in Imperial, Missouri.
#Breaking: A "person of interest" is in custody in the Catholic Supply Store homicide and assault. He is a 53 year old male. At this time he is only a person of interest. More details will be disseminated as they become available. #CatholicSupply

— St. Louis County PD (@stlcountypd) November 21, 2018
Despite some reports, at this time, charges have not been issued in the Catholic Supply store homicide case. When they are, they will be released to the public through our media office and this Twitter account. #CatholicSupply

— St. Louis County PD (@stlcountypd) November 21, 2018