This is an archived article and the information in the article may be outdated. Please look at the time stamp on the story to see when it was last updated.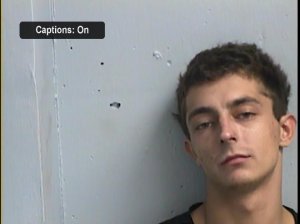 ARNOLD, MO – A Jefferson County man slips out of handcuffs and gets behind the wheel of a police cruiser.
Arnold police said it all started Monday morning after someone reported seeing the Emir Muhic, 23, allegedly stealing tools from a car parked on Dudler Road.
Police handcuffed the man and put him in the back of one of their police cruisers. It wasn't long before police said the man managed to slip out of the cuffs and drove off with the cruiser.
Police said the man drove through some neighborhood backyards including Natalie Pott's.
"We heard a big boom," Pott explained.
Pott said she thought it was the sound of a tree falling at first but turns out, someone had driven through her backyard and took out her fence posts knocking them into the side of her house.
"This was all torn down, saw the tracks, that was all torn down," Pott said as she pointed to the tire tracks and a broken and mangled fence.
Police said the man didn't just stop there.
He ended up on Tenbrook Road where he hit another car and a woman was injured but she is ok. He then drove away from that scene and may have hit a police car along the way. He was eventually arrested.
"When he went through private property there's little kids playing he could have hurt one of them," said Mike Selby.
Neighbors said it isn't the first time the man and the people he lives with have caused trouble in the neighborhood.
"One of the kids stole a golf cart," said Pott, "he drove that from Arnold Park over here down here and opened this gate and cut out that panel."
Pott said she and her neighbors are sick and tired and want the city to do something about what they believe is a constant nuisance.
"There is so much of this going on in the last several years' something has gotta be done," said Pott. "They have been in custody before and this keeps happening and when you walk out your door at 7 in the morning and there's a guy standing there who is just looking in cars that's scary and it's not like that around here."
Fox 2 reached out to City Manager, Bryan Richison.
He said in an email that the city knows about Monday morning's situation but isn't aware of any ongoing complaints or issues. He added that he has reached out to the mayor and the police chief to see if one of them has more information.
Police said the suspect could possibly face serious charges ranging from assault on a police officer to stealing and damage to property.