This is an archived article and the information in the article may be outdated. Please look at the time stamp on the story to see when it was last updated.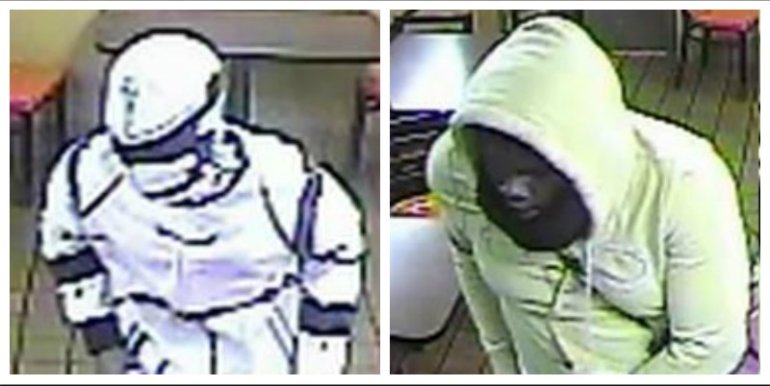 ST. LOUIS (KTVI) – Investigators with the St. Louis Metropolitan Police Department are asking for the public's help in identifying and locating two people who robbed a local restaurant last week.
According to Leah Freeman, a police spokeswoman, the robbery took place just after 9:30 p.m. on June 18 at the Church's Chicken in the 900 block of N. Grand, just across the street from the John Cochran VA Medical Center.
Police described the first suspect as an African-American man in his early 20s, wearing a Star Wars stormtrooper zip-up jacket with a full mask covering his face. The man's accomplice was an African-American man in his early 20s, with a stocky build, wearing a yellow-hooded jacket, a black bandanna, jeans, and black tennis shoes.
The two men walked into the store and the stormtrooper hoodie-clad man pulled out a handgun, Freeman said. The armed individual approached an employee and demanded money from the register. The employee complied and gave over an unspecified amount of cash. The second suspect took a purse from a customer inside the store.
The suspects left the store and drove away in an older model, grey Dodge Durango. No injuries were reported.
Anyone with information on the identity or whereabouts of the suspects is asked to call CrimeStoppers at 866-371-TIPS (8477).