This is an archived article and the information in the article may be outdated. Please look at the time stamp on the story to see when it was last updated.
[googlemaps https://maps.google.com/maps/ms?msa=0&msid=206978983190643383555.0004da2c2f62c1989f7c4&ie=UTF8&t=h&ll=38.78393,-90.37302&spn=0.046834,0.109863&z=13&output=embed&w=640&h=350]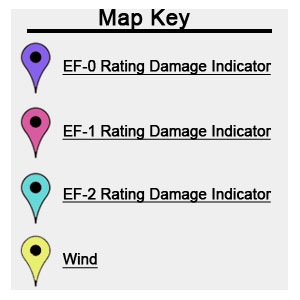 ST. LOUIS, MO (KTVI) – The National Weather Service damage assessment of tornadoes in Bridgeton, Hazelwood, and Florissant determined that there was a maximum rating of EF-2. The path of the tornadoes stretched seven miles and had a maximum width of 500 yards.
The tornado began in Bridgeton near I-270 and moved northeast causing tree damage for the first three miles. Ten apartment buildings were damaged. Five of them lost a portion of their roofs.
(Map:  Follow The Path Of The Tornado On "The Hill")
The the tornado turned East and caused EF-2 damage at Lynn Haven drive and Howdershell Road. This is where two homes lost their roofs. The area from Lynn Haven Drive and Gerardini drive had the most damage. Then the tornado moved very fast, covering 7 miles in about 5 minutes.
A helicopter tour reveals the most serious damage in Hazelwood. Trees and power lines down, more than 100 homes and an apartment complex took the brunt of the storm. Most of the damage was centered around Howdershell Road and Lynn Haven Lane. The power of the winds so strong it picked up trees and dropped them where roofs once stood.
The National Weather Service is still conducting a survey of the area. There may be updates as more information comes in about the damage.
See the full National Weather Service Survey of the Hazelwood tornado damage.