This is an archived article and the information in the article may be outdated. Please look at the time stamp on the story to see when it was last updated.
[protected-iframe id="96ebc5335fca4701d61d7c412d9762f0-29519413-15158773″ info="https://maps.google.com/maps/ms?msa=0&msid=206978983190643383555.0004da2ce567dd18c57cc&hl=en&ie=UTF8&t=h&ll=38.610709,-90.284615&spn=0.002934,0.006652&z=17&output=embed" width="620″ height="350″ frameborder="0″ scrolling="no"]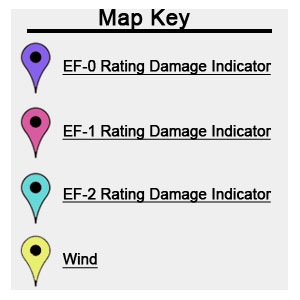 ST. LOUIS, MO (KTVI) – A weak tornado touched down in "The Hill" neighborhood in St. Louis City. According to the National Weather Service it touched down near the intersection of 59th street and Rebel. It moved northeast across January avenue and lifted near Columbia Avenue.
Trees snapped and many garages and sheds were damaged along the path of the tornado. One home on Columbia Avenue lost part of the roof. Several cars were badly damaged.
More survey information from the National Weather Service can be found here.