This is an archived article and the information in the article may be outdated. Please look at the time stamp on the story to see when it was last updated.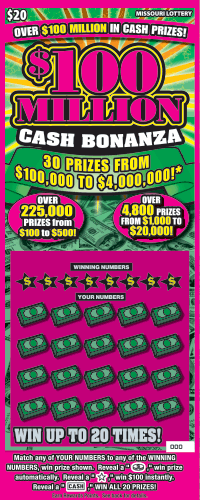 ST. CHARLES, MO (KTVI) – A 68-year-old Maryland Heights man is $100,000 richer thanks to a Missouri Lottery scratch-off ticket.
Johnnie Moore won a second-tier prize on the "$100 Million Cash Bonanza" game. He bought the winning ticket from Huck's Food Store, located at 1020 Country Club Road in St. Charles.
"$100 Million Cash Bonanza" is a $20 scratchers game that offers 20 prizes ranging from $100,000 to $1 million.
Moore is the 10th Missouri Lottery player to claim a $100,000 prize.