This is an archived article and the information in the article may be outdated. Please look at the time stamp on the story to see when it was last updated.
ST. LOUIS (KTVI) – "It just feels like everything was taken from me. Everything."
Edwin Cohee lost the person he depended on most on Independence Day. He and his twin brother, Edward, were celebrating the Fourth of July last year with their closest friends in the 4700 block of Hammett Place. There was an argument between Edward and another friend, Derrick Dean. Edwin stepped in to play peacemaker.
"I was like, 'Hey, what we fighting for? We family. We brothers, we don't need to be fighting like that.' And I raised my arms up like, 'What are we fighting for?'" Edwin said.
Before Edwin could say much else, Dean pulled out a gun and shot both brothers.
"And I grabbed myself and I looked at him and said, 'You shot me' as in, 'Why'd you shoot me?' and when I did that I turned around and then I sat behind a truck and he shot three more times and at that time, is when he shot my brother," Edwin said.
The brothers were rushed to the hospital, but Edward did not survive.
And while the wound in Edwin's chest has since healed, the wounded in his heart has not.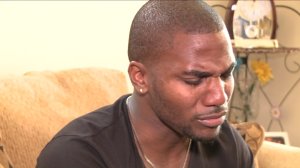 "He was there for me from day one. I probably wouldn't even wake up if it wasn't for him, because you get lost. We didn't live our lives like that," he said. "I didn't join a gang. I didn't live in the streets. I went to school. I got my education. I got my degree. I worked. And you expect for the world to reciprocate that to you. And ever since that day I've been trying to find a reason to be here."
Derrick Dean has been in hiding ever since. St. Louis police and U.S. Marshals are still searching for him.
"Sometimes I think these guys think we're gonna forget about them. We never forget. It's always on record," said Lt. John Paul Green, St. Louis Metropolitan Police Department. "And we always got somebody looking for you."
CrimeStoppers is offering up a $5,000 cash reward for information leading to Dean's arrest. Edwin seeks not only justice for his brother, but he wants to ask his killer one question.
"Every day I think I would feel better if I knew why he did it; like, what made him do it. I think he owes me that. I think he owes me and my brother that."