This is an archived article and the information in the article may be outdated. Please look at the time stamp on the story to see when it was last updated.
UPDATE:  Makayla Jones has been located.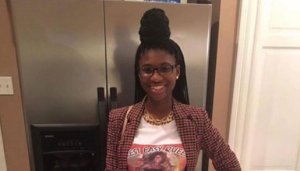 ST. LOUIS, MO (KTVI) - A 15-year-old St. Louis girl who vanished on her way to work Thursday, has been found. Friday night, City of St. Louis Police made contact with Makayla Jones but weren't saying where they found her and how they found her. Her mother, Lakeysha Jones told FOX 2 reporter, Ayesha Khan that detectives were speaking with her daughter to figure out why and how she disappeared after she did not show up for work.
Earlier on Friday night the mood was much different when police were searching for Makayla. Concerned neighbors, family and friends were handing out fliers in hopes of bringing the young girl home safe and sound.
Police said Makayla's mother reported her missing when she didn't show up for work after school Thursday. Authorities said Makayla had gotten off of a school bus at Hodiamont Avenue and Skinker Boulevard but she didn't make it to her job.
Lakeysha Jones told FOX 2 earlier Friday afternoon that her daughter is a good kid and would never disappear on her own will.
No other details surrounding the reason for disappearance were immediately available.
Makayla has been located. Thanks for the spreading the word! https://t.co/wcgwsI0kRU

— St. Louis, MO Police (@SLMPD) February 18, 2017