This is an archived article and the information in the article may be outdated. Please look at the time stamp on the story to see when it was last updated.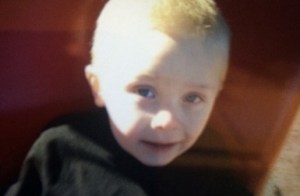 IRON COUNTY, MO (KTVI) – A tragic ending to the search for a three year old boy who disappeared overnight outside of Ironton. The body of Titus Tackett was found inside of a minivan about 11am this morning.
The minivan was parked outside of a home off Highway 72, the body was found by a resident. Tackett disappeared between about midnight and 1:15am on Wednesday morning from a home near Lake Killarney in the Killarney Shores area. That`s about four miles southeast of Ironton.
A massive search started after Titus` family discovered he had disappeared and called authorities.
Titus' aunt tells FOX 2 that Titus lived in Potosi with his mother and her parents. His mom brought him to his dad`s home Tuesday night to visit his father and his sister. Titus` father lives in Killarney Shores with his father and his daughter.
At about midnight Titus` mom and dad went into Ironton and left Titus with his grandfather at the home. When they got back about 1:15am this morning, they noticed the door to the home was open and Titus was gone. That was when the search started.
Law officers from the Iron County Sheriff`s Department, the Missouri Highway Patrol and the FBI searched all night into this morning. They searched by air and on the ground. K-9 searchers were also brought in.
Volunteers showed up as well- they walked the area and rode ATV`s. That search went on until the tragic discovery was made inside the minivan.
At this point, authorities say it's unclear if foul play is involved or if Titus' death was somehow a tragic accident. An autopsy will help reveal clues into how the three year old died.
His says Titus was adventurous and his parents had caught him trying to get of the house in the past. The unanswered question is, "What happened this time that turned deadly?"
Ironton is located about 80 miles south southwest of St. Louis.
Previous story: Search suspended for missing toddler in Iron County