This is an archived article and the information in the article may be outdated. Please look at the time stamp on the story to see when it was last updated.
ST. LOUIS, MO (KTVI) – Turkey hunting season starts this weekend. A Missouri Department of Conservation study says that there are less turkerys in Missouri this year. The 2016 turkey production was lower than the 5-year average. The fall firearms turkey season runs from Oct. 1-31.
A rainy spring may have led to less turkeys this fall. There were not many days with heavy rainfall. But, many days included at least some precipitation.
MDC Turkey Biologist Jason Isabelle writes, "When hens are repeatedly getting wet while incubating, it can increase the chances of a predator locating the hen and her nest. Looking at this year's brood survey results, only 29% of hens were observed with poults, which indicates poor nest success."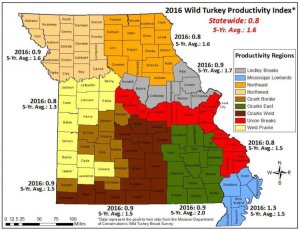 More from the MDC:
Each summer, citizen volunteers and MDC staff record the number of wild turkey hens and recently hatched turkeys, called poults, they see. These observations are then tallied for the annual brood survey. The number of poults is divided by the number of hens reported to create a poult-to-hen ratio (PHR).

This year's statewide PHR was 0.8, which was below last year's figure of 1.5 and the previous five-year average of 1.6. Regionally, PHRs this year ranged from 0.8 in the Northeast, Union Breaks, and West Prairie turkey productivity regions to 1.3 in the Mississippi Lowlands region.
Given the poor hatch throughout the state fall turkey hunting is going to be more challenging this year. Results of the 2016 wild turkey brood survey are available at http://on.mo.gov/2di1PXI.
Fall archery turkey hunting continues through Nov. 11 and resumes again Nov. 23 to Jan. 15. Shooting hours are one-half hour before sunrise to one-half hour after sunset with a limit of two turkeys of either sex. Fall firearms turkey season runs Oct. 1-31 from one-half hour before sunrise to sunset with a limit of two turkeys of either sex. Details about fall turkey hunting regulations are found in the 2016 Fall Deer and Turkey Hunting Regulations and Information booklet available wherever hunting permits are sold, from MDC offices and nature centers, or online at http://on.mo.gov/2d7JPxc.
Buy permits from vendors around the state, online at mdc.mo.gov/buypermits, or through MDC's free mobile apps, Mo Hunting and Mo Fishing, available for download through Google Play for Android devices or the App Store for Apple devices.