This is an archived article and the information in the article may be outdated. Please look at the time stamp on the story to see when it was last updated.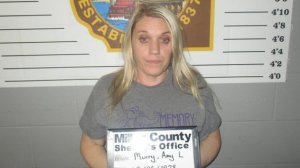 IBERIA, Mo. (AP) _ Court records say a Missouri jail nurse who wanted to marry the convicted killer of $1.7 million lottery winner poisoned her husband before setting fire to the couple's home.
Forty-year-old Amy Murray, of Iberia, is jailed on $750,000 bond on charges of first-degree murder, armed criminal action, arson and tampering with evidence in Dec. 11 death of Joshua Murray. Her attorney didn't immediately return a phone message Monday.
Charging documents say Murray had worked as a nurse at the Jefferson City Correctional Facility, where she had a "romantic relationship" with inmate Eugene Claypool. The documents say they discussed in recorded conversations "having a life" now that her husband was "out of the picture."
Claypool and another man were convicted in the 2000 killing of 72-year-old Donald Hardwick.