This is an archived article and the information in the article may be outdated. Please look at the time stamp on the story to see when it was last updated.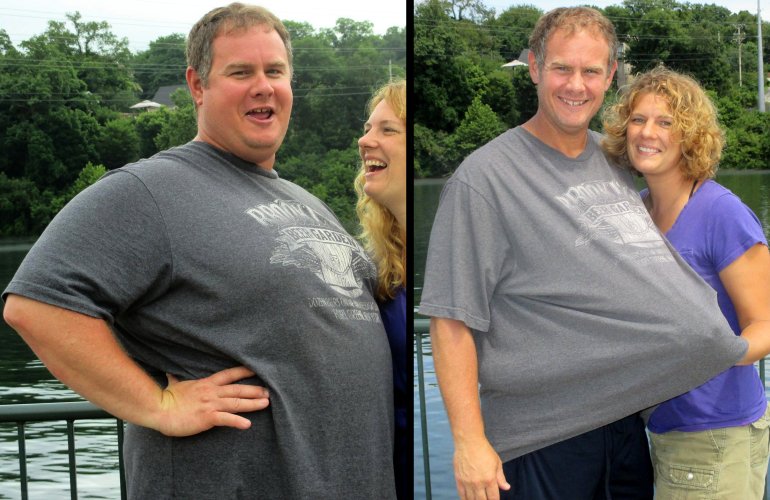 UNION, MO (KTVI) – A Missouri man lost nearly 200lbs in under a year after his doctor gave him some scary news. The physician told Tim Buchanan that he was a, "ticking time bomb and death could come at any moment." His weight loss coach tells FOX 2 that he was already on a CPAP machine for sleep apnea. Diabetes was also robbing many of his family members of their health, he felt hopeless.
Weight loss coach and fitness expert Charles D'Angelo once weighed 360lbs. He was on a local talk radio station to talk about his secrets to losing the weight. D'Angelo now has a bodybuilder's physique. Buchanan was listening that day and it seemed that there was hope.
"When you work on the inside, the relationship you have with yourself and your Creator, your philosophy about life and attitude shifts to loving yourself at the deepest level. Doing what is best for your health then comes easy with a good strategy because you're looking forward, not back," D'Angelo said.
Buchanan contacted Charles D'Angelo about helping him to lose weight and start a healthy lifestyle.
When Charles recounts his first meeting with Tim he said, "I do more asking than I do telling. Having been there at 360lbs myself, I get it. The first step is creating an exciting vision for your future to unhook your past. That's what we started discussing. Where he'd been didn't have to be where he ended up." D'Angelo said. "When Tim considered the real impact his own passing would have on the lives of his wife and children, he turned something he long said he should do, into a must. Within the next eight months of coaching, he made healthy habits a daily ritual and is down now almost 200lbs as result."
Tim tells Charles D'Angelo he is in awe of how much his life has changed. "My wife confided in me after I had lost about 100lbs, that there were many nights she tossed and turned thinking about how she would go on when I died young, before I started my journey. Now she says she is joyful knowing we will be able to live out our entire life together. I only wish I would have made these changes sooner."
"All change is fast, but some times people sit on the fence. We delude ourselves into thinking we are better than we used to be, or will get better in the future. It's as if we believe we have eternity to do it. All we have is this moment, now. When you're focused on staying present like that, your past doesn't haunt you and you can invest all you've got into doing what you should for yourself today. That guarantees a bright fulfilling future," writes Charles D'Angelo.
D'Angelo has a warning for those looking to start a personal training program. He reminds his clients that recidivism in weight loss is very high. Several studies state that more than half of the people who drop massive amounts of weight gain it all back.
"I look to those who have kept it off as a model, myself included. I'm not so much interested in why people don't as much as how those that do, do. Those of us that never go back have shifted our identity and mindset and are always setting new goals. That's what I help people with. The price to outstanding health is the practice of small intelligent daily disciplines, and with a compelling vision of your future, you are unstoppable," writes Charles D'Angelo.
Want to contact Charles D'Angelo? Visit his website: CharlesDAngelo.com