This is an archived article and the information in the article may be outdated. Please look at the time stamp on the story to see when it was last updated.

JEFFERSON CITY, MO (KTVI) -Missouri State Sen. Paul LeVota (D-Independence) announced Friday evening that he would resign his seat in the Senate effective Aug. 23. LeVota is facing a public investigation for allegedly sexually harassing two former interns.
In a note addressed "To My Friends" and posted on LeVota's Facebook page at about 6:30 p.m., LeVota wrote that "my conduct has been called into question relating to the intern program in the Missouri Senate and even though there has been no proof of any wrongdoing, the media attention is a distraction to doing the people's work." The Facebook page has since been deleted.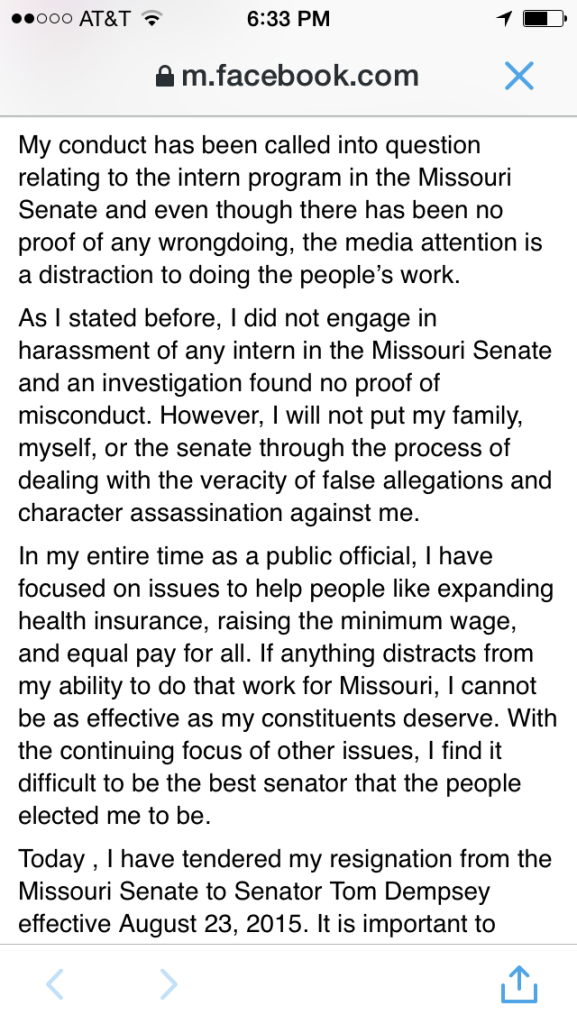 LeVota has maintained his innocence through an internal Senate investigation that came after two University of Central Missouri students left early from an internship for LeVota during the legislative session that ended in May. The interns claim LeVota sexually harassed them and sent inappropriate text messages to them.
On Friday evening, Missouri Governor Jay Nixon released a statement concerning LeVota's resignation saying:
Although I have not received a formal letter of resignation, I understand that Senator LeVota has announced his intention to resign from the Missouri Senate. This is a necessary step and is in the best interests of his constituents. I await his formal letter so that his resignation can take effect pursuant to section 21.090, RSMo.