This is an archived article and the information in the article may be outdated. Please look at the time stamp on the story to see when it was last updated.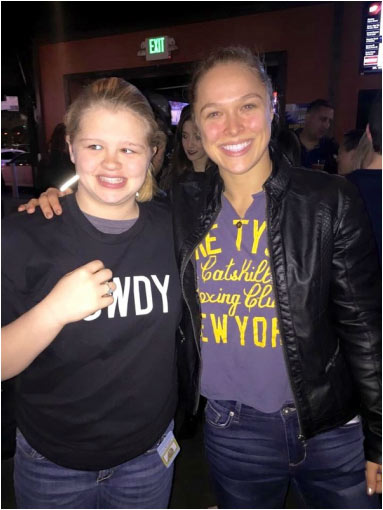 KANSAS CITY, MO (KCTV) – A Johnson County girl who says she was bullied had the amazing opportunity to meet the woman she says helped pull her out of the situation.
Ultimate Fighting Championship fighter Ronda Rousey came to Unity Temple on the Country Club Plaza to sign her new book, giving Claire Tietgan a chance to connect and stand toe-to-toe with her favorite athlete.
Claire's path to meeting Rousey wasn't easy. Her family realized she was being bullied when they found notes written inside her closet that revealed she was being bullied so bad she wanted to die.
"It's a horrible feeling very day at school I skipped half of my life of school," Claire said.
Her parents encouraged her to get active to overcome social pressures, so she set her sights on becoming a fighter like Rousey.
"She's been bullied too. And she had struggles at a young age and she had speaking problems like I did," Claire said. "I picture myself doing what she's doing right now."
The young girl met Rousey once in Los Angeles and Thursday they met again. The second meeting gave Claire more motivation to continue fighting and standing up to bullies.
"It's awesome that I got to see her again," Claire said.
Rousey's next fight is Aug. 1. Claire's birthday is Aug. 2. All she wants is to be at the fight in Rio De Janeiro.
She and her family have even created a website to share her story.
By Laura McCallister