This is an archived article and the information in the article may be outdated. Please look at the time stamp on the story to see when it was last updated.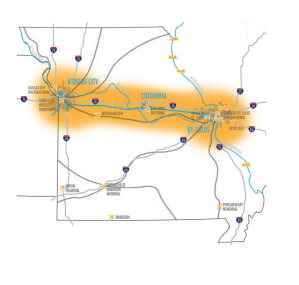 ST. LOUIS, MO – Economic development officials in both the St. Louis and Kansas City regions are expected to submit competing bids in hopes of luring Amazon's second headquarters, ahead of the online giant's Thursday deadline for proposals.
But officials with the state of Missouri are doing something they think is unique among the scores of proposals being pitched around the country: They're entering a statewide proposal that would include an "Innovation Corridor" that spans locations  from Kansas City to St. Louis, and would include a site in Columbia.
The statewide plan would be in addition to identical state backing for individual bids being made by St. Louis and Kansas City metro leaders.
"It is not pie in the sky," Drew Erdmann, Missouri's Chief Operating Officer said of the statewide proposal, in a phone interview Wednesday night ahead of Thursday's announcement. Citing a population base of three million people, higher education resources and air, land and other logistics, "this is a great area for Amazon to be competitive as they try and grow their business."
A release from the state of Missouri says, "Missouri's proposal encourages Amazon to consider beginning HQ2 in either St. Louis or Kansas City, and then in the years ahead, expand along an innovation corridor to the second city."
Key in the overall Missouri plan is the evolution and innovation of communications technology and ground transportation, relying on ideas like Hyperloop, which could one day make it easy for someone to commute from St. Louis to Kansas City in 24 minutes instead of four hours. The state of Missouri is already a finalist for a Hyperloop feasibility study.
"Amazon explicitly says in the RFP that they are taking a 10-15-20 year perspective. This is not something that is what is the world of the next 18 months, this is the world of next 18 years, " Erdmann said. "We, the state of Missouri, are challenging Amazon to think more boldly than their original proposal. If they expand their view, they'll see the potential and the logic of what we're talking about."
Officials stressed that the St. Louis and Kansas City bids were being treated as equals and that no favoritism was shown for either proposal, which will have what they described as identical and creative incentive packages. While other states, like New Jersey have come out and said how much incentive money would be spent in hopes of luring Amazon, Missouri officials said state law requires that they not disclose those figures.  Erdmann and Missouri Economic Development Director Rob Dixon said they had been in touch with counterparts in neighboring Kansas and Illinois, but not with much specificity.  St. Louis' proposal hypes the potential for a bi-state headquarters for Amazon on both sides of the Mississippi River. Illinois' detailed role in backing the St. Louis project is still uncertain, but the state has already announced Chicago is bidding for the project as well.
As for the St. Louis and Kansas City bids, Erdmann said "the state government has two awesome cities that are competitive and we've treated them both equally and impartially and we hope that can be successful as possible."
Missouri's proposal, along with videos of Governor Eric Greitens and Hyperloop One CEO Rob Lloyd are available on the initiative's website: http://www.makemohq2home.com/