This is an archived article and the information in the article may be outdated. Please look at the time stamp on the story to see when it was last updated.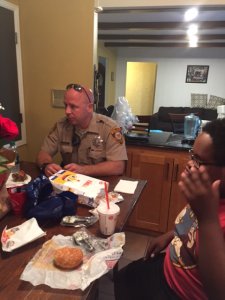 ST. LOUIS, MO (KTVI) - One mother of a child with special needs fears what would happen if her son had a run in with police. This is at a time when tensions are high between police and the community. That fear turned into a meeting that has now taken social media by storm.
A Cardinal Glennon program called Stars played a huge role in easing the mother's fears and connecting police with the community.
Jason Minor is pretty much always happy. If you spend some time with him, you will be too.
But his mother, Anita worries about what would happen if her nonverbal son with down's syndrome had an encounter with police.
"A lot of times its giving him directions, he can't follow directions immediately," Anita Minor said.
Among her fears: would officers understand or would her son's actions be misinterpreted as disrespect or non-compliance. Then how would the officer respond?
"I was terrified. There's been nights I go to sleep crying," said Anita. "It's hard."
She turned to a program through Cardinal Glennon called STARS.
It connects children with special needs with first responders in the community to keep them safe.
"He has definite communication challenges and we consider him elopement risk," said Tricia Casey, the Program Director with STARS. "We wanted him to know that adults in uniform are the good guys."
Then Jason got a special visit from Officer Schlueter with the St. Louis County Police Department.
The dinner of burgers and fries became an internet sensation, shared and viewed on Facebook hundreds of times.
More importantly, it lead to conversation, and understanding.
"I've learned that Jason is awesome," said Officer Schlueter. "He is a really good kid and to understand that there's people in community that welcome us in their home."
"Getting out of your car and getting involved in the community, that is what this area needs to do, that's what the United States needs to do, is get more involved with the community and programs like this help," Schlueter said.
"It gives comfort that they're going to be part of the community and the officers are going to keep an eye out for them," Anita said.
For more information on STARS, follow this link.