This is an archived article and the information in the article may be outdated. Please look at the time stamp on the story to see when it was last updated.
ST. LOUIS, MO (KTVI) – Some fans who thought they had tickets to the game were left out in the cold because of phony tickets.  Police report 80 incidents of counterfeiting on Saturday night.   Now there is an effort to crack down on counterfeiters.
Police and the Cardinals say know who you're buying tickets from.  One other big tip, do not post photos of your tickets on social media pages. Counterfeiters have duplicated the bar codes on photos of tickets and created counterfeits.
There were also a number of counterfeit shirts and hats seized around the ballpark on Sunday night. They looked just like the real deal. but, you should look for a holographic sticker indicating it`s authentic. Major League Baseball, local and federal authorities have been on the lookout for knock-off merchandise that they say is often poor quality.
"Taxpayers have to make up the difference for what the counterfeiters don`t pay in taxes.  They typically don`t pay taxes on the items that they sell. The licensees who make the product are hurt for every counterfeit sale that`s made and then the retailers who are selling legitimate merchandise are hurt by it." said Ethan Orlinsky of MLB Properties.
"If you're buying tickets buying them off the streets from someone you don`t know is probably isn't a good strategy." said Chief Sam Dotson of the St. Louis Metropolitan Police Dept.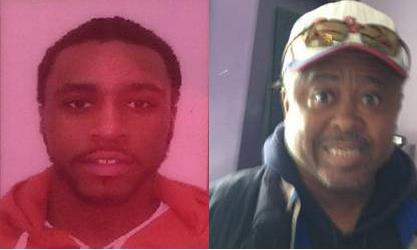 There was one arrest for counterfeit ticket sales Saturday night and two arrests for sale of counterfeit merchandise.  Police are still looking for two suspects.  If you have any information on the men pictured here call:  314-444-5627.
The Cardinals want to remind fans be be careful when purchasing ticket from somewhere other than Cardinals.com or Stub Hub.
Message from the Cardinals:
We want to remind fans to be careful when buying tickets on the secondary market.  Unfortunately, we had a number of incidents of counterfeit tickets to tonight's game.  Fans should only purchase from trusted sources.  Fans may protect themselves by only purchasing tickets through authorized sellers such as cardinals.com or Stub Hub, the official fan to fan marketplace of Major League Baseball.
The heat is on to find scalpers insisting @ChiefSLMPD to officers at roll call @Cardinals game tonight! pic.twitter.com/JleU2c1s53

— Devil's Advocate📚💻 (@GentryTrotter) October 27, 2013