This is an archived article and the information in the article may be outdated. Please look at the time stamp on the story to see when it was last updated.
DUPO, IL (KTVI) - First degree murder charges have been filed against the mother of a girl in Dupo for allegedly smothering her daughter. According to court documents filed Tuesday in Belleville 4-year-old Emily Perrin was deliberately smothered by her mother on Sunday the day before her fifth birthday.
Mary Lockett, 36, is charged with first degree murder and is being held on a one million dollar bond.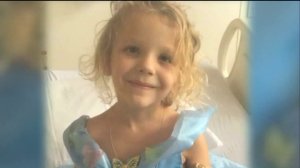 FOX 2 visited the family's home in Dupo Monday. The mailbox was surrounded with birthday decorations for a celebration that never happened.
Family members did not want to do on camera interviewers but they told us by phone that Mary Lockett was on medication for schizophrenia and bi-polar disorder. They say it worked well when she took it. When she took it she was a good mother. When she would start to feel better, she sometimes stopped taking it, which could lead to manic behavior.
According to the family, an adult male who lived with Mary Lockett at her home in the 100 block of North 9th in Dupo came home from work Sunday afternoon. He discovered Lockett lying on top of her daughter who was not conscious. She was not breathing and turning blue.
Police and EMTs gave the girl CPR but she died at a short time later at St. Anthony's Hospital. Family members also say Emily had Cystic Fibrosis.
Some family members are angry with the Illinois Department of Children and Family Services. They say DCFS had been meeting with Mary and Emily twice a week. They should have seen Emily was in potential danger because of her mother's mental health issues.
Because of confidentiality rules a spokesperson for DCFS could tell us only that the department has been working with the family since June 2015. They were providing what is called, "intact services." That is social work lingo which means looking for ways to help troubled families stay together.
The medical examiner's report is not being made public yet but family members say they were told Lockett cut off her daughter's breathing with a dog leash.
Mary Lockett also had and 8-year-old son living with her. The boy is now staying with a relative.
------
The St. Louis Crisis Nursery offers short-term, emergency shelter for children, newborns through age 12, whose families are faced with emergencies or who are in crisis. You can contact them at 314-768-3201.