This is an archived article and the information in the article may be outdated. Please look at the time stamp on the story to see when it was last updated.
ST. LOUIS - The mother of the man murdered on I-64/Highway 40 Saturday spoke with Fox 2/News 11 Wednesday.
It was such an alarming crime:  Frencheric Nelson, 29, of East St. Louis, shot and killed on the highway as fans were driving home from a Cardinals game at Busch Stadium.
Police released new photos of the red Mercedes SUV he was driving as Nelson's mother called for justice.
"I had to go the morgue and view him," his mother, Trina Philpot said.  "I can't believe it but I've got to let it go."
For most people it was a simply an unexpected highway shutdown through the heart of St. Louis in the middle of a Saturday afternoon.  A warning for fans to avoid the closure was posted on the scoreboard at Busch.
"French", as Philpot calls her son, was the father of a 4-year-old son.
He was shot at close range through the back seat with the bullet exiting his chest; meaning the shooter was in the car at the time, his mother said.
"You don't get away with doing that.  That was cowardly. The detectives say that was cowardly, shoot somebody from the back, they can't defend themselves," Philpot said.  "Come forward.  I know this world.  Come forward, French didn't do anything."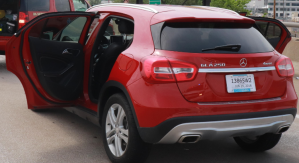 She believes that red Mercedes belongs to his girlfriend.  They'd recently moved back to the area from Mississippi, she said.
There is a cash reward in the case.  Call CrimeStoppers at 866-371-TIPS if you have any information.  You don't have to leave your name to get the reward.
If your tip, called into CrimeStoppers, leads to the felony arrest of the subject(s) responsible for this crime you may receive a reward.  All tips into CrimeStoppers are completely anonymous. We have no caller id, no voicemail and no way to trace an IP address. All tips must be called or emailed directly into the CrimeStoppers tip hotline only or must be received through our free p3 app to be eligible for the CrimeStoppers reward. At 866-371-TIPS (8477).