This is an archived article and the information in the article may be outdated. Please look at the time stamp on the story to see when it was last updated.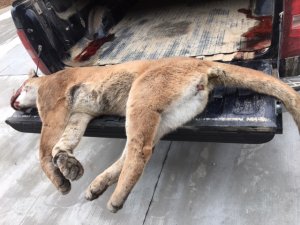 WARREN COUNTY, MO (KTVI) – Scientists with the Missouri Conservation Department are trying to learn more about a mountain lion that was struck and killed on I-70 Saturday in Warren County.
The animals are making a comeback in Missouri after vanishing from the state for decades.
At mile marker 197 a passerby noticed the lion on the side of the road Saturday and conservationists came in to haul it off.
It is one of fewer than a half dozen incidents of these animals being struck by cars since the state started keeping track in 1994.
Department Spokesman Dan Zarlenga said conservationists would normally expect these animals to track across rural highways.
"Mountain lions are very secretive, they don't like to be around humans, they like to try to avoid them as much as possible," Zarlenga said.
Since 1994, there have been about 5 dozen confirmed mountain lion sightings in Missouri.
"We are definitely monitoring it, we have a mountain lion response team, we take every report seriously, we investigate it, and if we can find some kind of evidence then we can call it a confirmed mountain lion sighting," Zarlenga said.
Almost all of the lions seen in Missouri have wandered from places out west like South Dakota and Colorado.
The established males in those areas give the younger ones a cue to get packing.
"It's not uncommon for a male to wander hundreds or thousands of miles, even," Zarlenga said." At this point in time we have no evidence that there's any breeding going on in the state of Missouri, but we are certainly keeping an eye out for if that should change in the future."
With the lion in Warren County, department scientists will perform what is called a necropsy.
They will determine gender, examine the lion's health and stomach contents and do some lab testing.
"They'll send it off to a different lab that specializes in genetic analysis, and then they'll be able from that to hopefully determine where the animal came from by examining it's genetic markers," Zarlenga said.
A lion struck on the state's busiest highway does not shock the department, but it is certainly a surprise.
It is the fourth confirmed mountain lion sighting now in Warren County.
That necropsy should be complete in a few days.
By Nick Thompson