This is an archived article and the information in the article may be outdated. Please look at the time stamp on the story to see when it was last updated.
Update:  West Virginia state police report a sighting of the green 1997 Mercury Villager minivan in Charleston on I-77 South.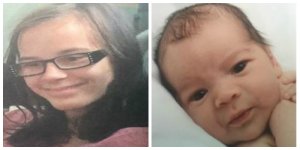 EDWARDSVILLE, IL – Police are still looking for a man who they suspect abducted his 13-year-old stepdaughter and her 2-week-old son. Investigators say Katherine Derleth and her son Christopher Ray Derleth are believed to be with Katherine's stepfather, 39-year-old Christoper Derleth.
"We are asking for assistance from authorities from here all the way to the East Coast," said State's Attorney Tom Gibbons. "We believe they may be in West Virginia or somewhere along the way."
Christopher Derleth has been charged with aggravated kidnapping, a Class X felony, for allegedly taking the baby out of the state of Illinois.
Police believe the teen and her baby may be in danger.
"A 19-day-old child needs medical care that I don't think a 13-year-old is prepared to deliver," said Sheriff John Lakin. "I think we also have to look at the situation that a 13-year-old old young lady delivered this child 19 days ago, and she may need medical care as well."
Police believe the teen and her baby may be in danger. They say that the baby was born 19 days ago. The child or the mother may need medical treatment. They don't believe the 13-year-old can provide that care. The mother may also need medical care.
Police are issuing a nationwide warrant for his arrest. It is believed that they are heading to West Virginia. An amber alert has been sent in that state.
The family is cooperating. They are concerned for the wellbeing of the missing teen and child. The mother was last seen just before Saturday 9pm Saturday evening. Police do not know if there was a plan in place to leave the state.
The three went missing Sunday morning from a home near Pocahontas. They may travelling in a green, 1997 Mercury Villager minivan with the Illinois plate E833210.
Katherine Elizabeth, 13, is described as 4'8″ tall, 95lbs with brown shoulder length hair and brown eyes. She is also known to have three birthmarks on her right knee.
Police believe Katherine is with her son, 2-week-old Christopher Ray Derleth. He was born 17 days ago and only weighs 8 pounds, three ounces with brown hair and dark eyes.
There are several details about this case that police have yet to confirm. They are working on getting the minors to safety and to arrest Christoper Derleth. More information will be posted about this case when those details are revealed.
Madison County Police say that they will send investigators to West Virginia if the individuals are located there.
If you see them or have any information call 911.  Police ask that you do not post tips to Facebook. They need relevant tips sent in to authorities.
Full press conference: