This is an archived article and the information in the article may be outdated. Please look at the time stamp on the story to see when it was last updated.
[protected-iframe id="e84dedf1690ef80649761b83386ad31f-29519413-15158773″ info="https://maps.google.com/maps/ms?msa=0&msid=206978983190643383555.0004da307c9444742dfa1&hl=en&ie=UTF8&t=h&ll=38.592824,-90.774837&spn=0.01174,0.027466&z=15&output=embed" width="640″ height="350″ frameborder="0″ scrolling="no"]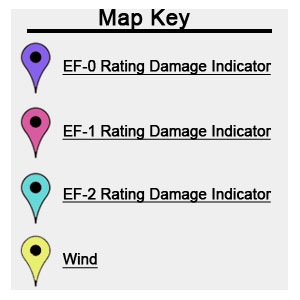 ST. ALBANS, MO (KTVI)- The National Weather Service has confirmed a third tornado touchdown from Wednesday night's severe storms. A damage survey shows that a tornado in extreme northeast Franklin County reached a maximum EF Scale rating of EF-1.
The tornado touched down around 7:38pm north of St. Albans. It traveled about 1.5 miles northeast before lifting just one minute later across St. Albans Island. Wind speeds were estimated at 100mph. The path of the storm was about 200 yards wide.
Trees took the brunt of the damage in the path of this tornado.
Data from the event will continue to be investigated.
Enhanced Fujita Scale:
EF-0: Wind Speeds  65 To  85 Mph
EF-1: Wind Speeds  86 To 110 Mph
EF-2: Wind Speeds 111 To 135 Mph
EF-3: Wind Speeds 136 To 165 Mph
EF-4: Wind Speeds 166 To 200 Mph
EF-55: Wind Speeds Greater Than 200 Mph
More coverage:
Map: Follow The Path Of The Tornado On "The Hill"

Map: Follow The Path Of The Tornado In Hazelwood