This is an archived article and the information in the article may be outdated. Please look at the time stamp on the story to see when it was last updated.
CLAYTON, Mo. – A Ladue police officer was charged Wednesday after shooting a suspected shoplifter outside the Schnucks grocery store at the Ladue Crossing Shopping Center.
St. Louis County Prosecuting Attorney Wesley Bell charged Officer Julia Crews with felony second-degree assault for the April 23 shooting. She surrendered to prosecutors on Wednesday.
If convicted, Officer Crews faces between 1 and 7 years in prison.
According to Schnucks, employees stopped a woman as she tried to leave with items she didn't buy. She snatched a few things, ran outside, and fell. A worker collecting carts outside, who did not know about the shoplifting, tried to help the woman but she struck the employee and ran off.
Officer Crews responded to a larceny call at the shopping center and encountered the suspected shoplifter, Bell said. The officer attempted to arrest the woman but she resisted and ran off.
Bell said the investigation determined Officer Crews yelled to the woman that she was going to deploy her Taser. Instead, Crews pulled out her firearm and shot the woman once in the torso. The suspected shoplifter was then taken to a hospital.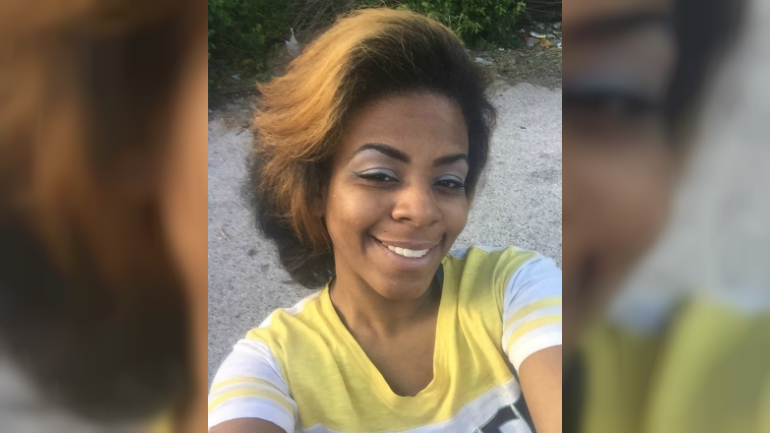 On Wednesday, the woman's family identified her as Ashley Hall. They said she's unconscious and not breathing on her own. Hall is a mother of 5.
Her family has hired Clayton attorney Bill Holland, who said a civil suit is coming.
Hall has not been charged for the shoplifting. Bell has not ruled that out.
Earlier this week, an attorney for Crews said the 37-year-old officer meant to use her Taser and not her firearm. Attorney Travis Noble called it a case of "weapon confusion."
Officer Crews has spent 13 years on the Ladue police force. She had been on paid administrative leave prior to being charged.
In March 2017, Crews was previously honored for helping to save the life of a woman who was shot by her estranged husband multiple times outside the Schnucks at Lindbergh Blvd. and Clayton Road.
This was the first known police shooting for Ladue law enforcement.
The city of Ladue released the following statement after the charge was announced:
Today, an officer of the Ladue Police Department was charged with Assault in the 2nd Degree by the St. Louis County Prosecutor regarding an officer-involved shooting on Tuesday, April 23, on the 8800 block of Ladue Road.

To ensure transparency and a fair investigation, the Ladue Police Department has an established officer-involved shooting protocol that calls for an independent investigation by either St. Louis County Police Department or the Missouri Highway Patrol.  After getting word of the incident, Ladue Police Chief Ken Andreski, Jr. immediately called the St. Louis County Police Department and asked them to handle all details of the investigation.

Over the last week, the Ladue Police Department has cooperated with the criminal investigation and subsequently launched an internal investigation to review the officer's conduct as well as all policies and procedures of the Department.

Following the incident, the officer involved was placed on paid administrative leave pending the outcome of the investigation.  She remains on administrative leave at this time.

"We are heartbroken over the course of events in the last week," said City of Ladue Mayor Nancy Spewak.  "We take great pride in our community policing efforts, and we strive to treat every member of the public with respect and integrity, despite the natural conflicts that occur when police are called to aid a potential criminal situation.  We are committed to doing everything in our power to learn from this and to minimize the potential of incidents like this in the future.  We are grateful the person involved in this matter is on her way to recovery.  I want to offer my continued support to her family and to all of the men and women of the Ladue Police Department.  This has been a difficult time for all of us."