This is an archived article and the information in the article may be outdated. Please look at the time stamp on the story to see when it was last updated.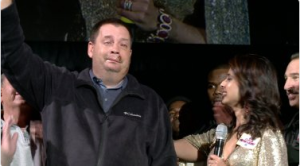 ST. LOUIS (KTVI) - It was quite a moment at the Scottrade Center when a wounded St. Louis Police sergeant decided to make a public appearance. He appeared on stage and waved to loud cheers. Sgt. Tom Lake also gestured to his heart in appreciate of the response from the crowd.
"Oh man it gave me goose bumps," said Illinois Department of Corrections employee Jonathon Brown.
Brown was one of the boxers participating in the annual event.
"They make sacrifices every day so for me to come out and put on a show, it's the least I can do."
The widow of St. Louis County Police Officer Blake Snyder and her brother helped ring the 10 count which signaled the start of the matches.
"It was heartbreaking," said Eureka Fire Protection District's Pari Stocker.
Wednesday marked the 30th anniversary of the annual event.  The matches have helped raise $5.5 million dollars for Backstoppers, an agency that helps the families of fallen first responders.
The 2016 Guns 'n Hoses event remembered 6 first responders who either lost their lives or suffered catastrophic injuries in the line of duty.
Anthony Crawford of the St. Louis Fire Department (L) connects to the face of Rob Standard of the Department of Justice Services during round 1 of the Guns and Hoses Showdown at the Scottrade Center in St. Louis on November 23, 2016. The annual event in its 30th year assists the families of fallen firefighters, police and medical personnel. Photo by Bill Greenblatt/UPI
Wounded St. Louis Police Sgt. with our @jhuda at tonight's Guns 'n Hoses. He was determined to make an appearance. pic.twitter.com/jtvq7WXmAH

— Jeff Bernthal (@JeffBernthal) November 24, 2016
If you're interested in donating to our sergeant who was injured Sunday evening, info is below. We again thank everyone for their support! pic.twitter.com/FIXDELN2Fa

— St. Louis, MO Police (@SLMPD) November 23, 2016
Boxing uniforms a throwback to the first @gunsnhosesstl in 1987 pic.twitter.com/dWaZOAKNAW

— Jasmine Huda (@jhuda) November 24, 2016