This is an archived article and the information in the article may be outdated. Please look at the time stamp on the story to see when it was last updated.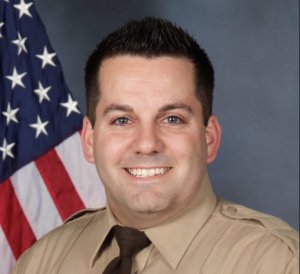 SOUTH COUNTY, MO (KTVI) - St. Louis County Officer Blake Snyder, 33, was killed while responding to a disturbance call Thursday morning. He leaves behind a wife and young child.
Police say in a release to the media, "It is with a heavy heart that we can confirm that our officer has died from his injuries. The officer was 33 years old and had served St. Louis County for the past four years."
The officer and his partner were assigned to the Affton Southwest Precinct, and responded to a call for a disturbance in the 10700 block of Arno Drive.  That address is located in  Green Park.
St. Louis County Chief Belmar believes that the Officer Snyder encountered the 18-year-old suspect in the driver's seat of a vehicle.  Snyder asked to see his hands.  The suspect immediately opened fire, striking the officer.  His partner returned fire and wounded the suspect.  The police officer was also critically wounded in the shoot-out.  He died from his injuries.
A witness, Jack Buck III, says he heard between 8 and 12 shots. He thought the loud noise may have been fireworks until he saw police lights outside. Another witness spotted a vehicle on Arno with the windows shot out.
Chief Belmar says the shooting has some of the characteristics of an ambush.  A gun was recovered from the scene.  There appears to be no video of the shooting.  Belmar says there was no dashboard camera in the police vehicle.
Related article:  Behind the badge:  More about the officer shot and killed in St. Louis County