This is an archived article and the information in the article may be outdated. Please look at the time stamp on the story to see when it was last updated.
OLATHE, Kan. – Adam Purinton, 51, is the man Johnson County prosecutors charged on Thursday with one count of premeditated first-degree murder and two counts of premeditated attempted murder related to the shooting of three men Wednesday night at Austins Bar & Grill, 2103 East 151st Street, in Olathe.
Police and prosecutors say Purinton shot the three men at Austins Wednesday night at about 7:15 p.m., then fled the scene as the victims were taken to a hospital.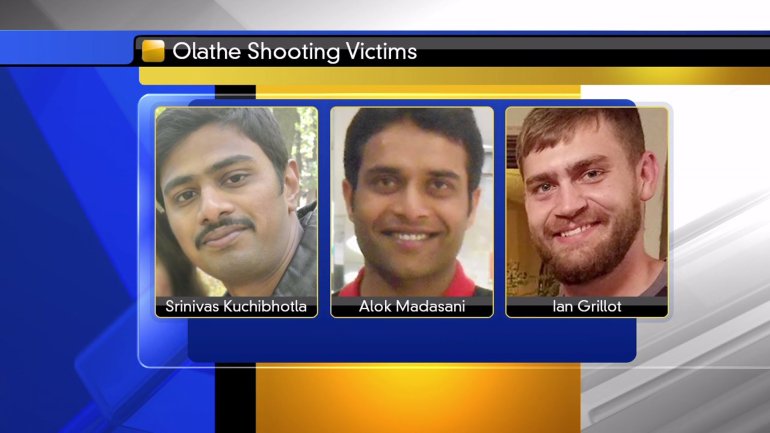 Srinivas Kuchibhotla, 32, died from the gunshot wound he suffered. Kuchibhotla's friend and Garmin colleague, Alok Madasani, 32, was also shot. He and the third victim, Ian Grillot, 24, are listed in stable condition at the hospital.
The four people at the podium for Thursday's news conference included:
Olathe Police Chief Steve Menke
Johnson County District Attorney Steve Howe
FBI Special Agent in Charge Eric Jackson
US Attorney for District of Kansas Tom Beall
None would confirm that they were investigating the deadly shooting as a hate crime, but said they were investigating the facts to determine what charges should be filed.
"This was a violent crime and we want the best prosecution that relates to this," said Tom Beall, U.S. Attorney for the District of Kansas.
When asked by reporters about the gun used in the shooting, the argument that led up to the shooting, or whether Purinton, a Navy veteran, suffered possible PTSD, the prosecutors and investigators said they could not comment.
Friends started a GoFundMe account for Kuchibhotla explaining 'an intoxicated man hurling racial slurs opened fire inside a packed Kansas bar killing our dearest friend…' Friends say Kuchibhotla is married and 'the kindest person you would ever meet.' They hope to collect enough money to be able to return his remains to India 'so his parents can say goodbye to their beloved son.'
Click hre for Madasani's GoFundMe page. Madasani received his masters degree from University of Missouri-Kansas City. He lives in Overland Park. Both work at Garmin, which sent out condolences to family and friends..
"They were confronted with racist, bigoted remarks and ultimately shot as part of what appears to have been a vicious hate crime," the account set up for Madasani says.
The family of Ian Grillot says he was shot trying to stop the gunman.
"Ian (Grillot) found himself in the wrong place trying to be a helping hand," his sisters posted on the GoFundMe page.
Police in Olathe waited Thursday for hours outside Purinton's home on West 155th Terrace, between Mur-Len and Ridgeview Roads, guarding it until a judge would issue a search warrant to go into the house and collect evidence.
"He served in the Navy. I really don't see him a lot. I'm not that close to him, just know him as a neighbor and he seemed nice. He's lived here for a long time. It's shocking to hear about what he's accused of, " says the suspect's neighbor, Richard Morris.