This is an archived article and the information in the article may be outdated. Please look at the time stamp on the story to see when it was last updated.
FERGUSON, MO (KTVI)-After a week of relative quiet, the streets of Ferguson are full of demonstrators again Saturday for the "National March on Ferguson", demanding justice in the shooting death of Michael Brown. West Florissant Avenue has been shut down for the duration of the protest and rally.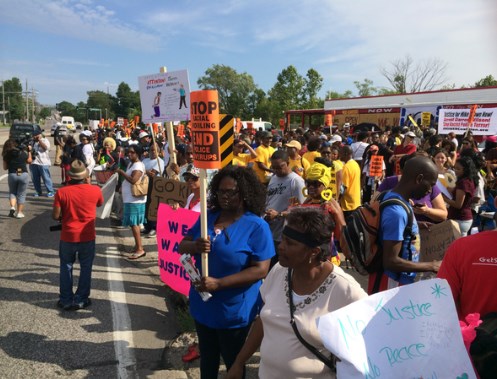 Organizers had been vague about what kind of numbers they expected; only using the word massive to describe the march. According to a full page ad in the St. Louis American newspaper, the march is a protest against "police killings, brutality, profiling, and legal coverups."
The "Justice For Michael Brown Leadership Coalition" organized the event.
The march began at 10:00am at West Florissant and Canfield, near the burned out QuikTrip.
March about to begin in #Ferguson @FOX2now pic.twitter.com/mkW9r6wbLC

— George Sells (@GeorgeSells) August 30, 2014
Crowds marched to the Canfield Green apartments, where Brown was killed, for a prayer rally.
Demonstrators line Canfield Dr as far as eye can see #Ferguson #MikeBrown @FOX2now pic.twitter.com/ZvjpHqSMag

— Andy Banker (@andybankertv) August 30, 2014
The group then marched to a nearby Forestwoods Park on Ferguson Road where speakers were planned.
Parents of #MichaelBrown stand in front of #Ferguson crowd. Brown Sr. says a special prosecutor needs to be called. pic.twitter.com/twnLVjQRbo

— Lisa Brown (@LisaBrownSTL) August 30, 2014
Then, part of the group broke away and marched to the Ferguson Police Department to continue their protest.
While speakers continue to talk at Forestwoods Park as part of march, a group of dozens splits off, headed to #Ferguson police department.

— Lisa Brown (@LisaBrownSTL) August 30, 2014
Marchers have shut down traffic at S Florissant Ave. at Tifton as part of #Ferguson march pic.twitter.com/AqXiysnwBs

— Lisa Brown (@LisaBrownSTL) August 30, 2014
#Ferguson march, hundreds now in front of police department, stopping traffic pic.twitter.com/Rl84gur0it

— Lisa Brown (@LisaBrownSTL) August 30, 2014
Meanwhile businesses along West Florissant Avenue in Ferguson are holding their collective breath waiting for the day to unfold. Boards remain over many of the windows, with business owners reluctant to replace glass smashed by rioters until they're sure the violent aspect of what's been happening here is over.  Many business owners support the demonstrators, but at the same time don't want to lose another Saturday of business to blocked streets, jammed parking lots, and tension that makes customers nervous.
Dellena Jones, the owner of the 911 Hair Salon, says, "It shouldn't look like this, It looks bad it looks terrible, especially with the burned down Quik Trip. It's like a terrible flaw. It looks bad. So we do want to fix it because we want the facelift…we want it to look good, but we want it remain looking that way once we fix it you know."