This is an archived article and the information in the article may be outdated. Please look at the time stamp on the story to see when it was last updated.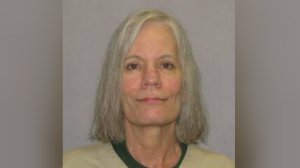 ST. CHARLES COUNTY, Mo. – Pam Hupp will spend the rest of her life behind bars for a 2016 murder.
Hupp appeared in a St. Charles County courtroom Monday afternoon to hear the sentence, which comes three years after her murder of Louis Gumpenberger.
In June, Hupp cut a deal to avoid the death penalty in Gumpenberger's murder. Hupp entered an Alford plea, acknowledging county prosecutors had enough evidence to convict her of murder and agreed to a sentence of life imprisonment without the possibility of probation or parole.
Before the hearing, Hupp could be seen joking and laughing with her attorneys. At one point she laughed so hard, she hunched over. When the hearing began, the victim's sister asked to speak in open court.
Krystal Conn said Hupp was "not human" and probably a "serial killer."
Hupp had claimed Gumpenberger invaded her home three years ago and that she killed him in self-defense.
The state learned she set him up in a plan to frame him for another murder.
St. Charles County Prosecutor Tim Lohmar said this about Hupp's bubbly demeanor: "She's been manipulative the whole way. She wants everybody to believe she's still in control. She lost control and she's never going to have control again. So I think this was just one more way for her to try to hold on to one more last little bit she can."
The victim's mother, Margaret Burch, spoke after the hearing.
"I feel at ease. I'm glad it's over," she said. "My grandson's here with me and he's never expressed his feelings about everything and I can tell he's happy. He's glad it's over."
Burch mentioned only one regret.
"(Pam) had the chance to put her hands on my son and I didn't get the chance to do the same with her," she said.
No one from Hupp's family showed up to court Monday.
Hupp's legal problems may be far from over. Lincoln County prosecutor Mike Wood is going to take another look at the murder of Betsy Faria.
Hupp benefitted from Faria's $150,000 life insurance proceeds which were signed over to Hupp just days before Faria was murdered.
In 2013, Faria's husband was found guilty of killing his wife. But in a new trial two years later, a judge found he was not guilty while raising questions of Hupp's possible involvement.