This is an archived article and the information in the article may be outdated. Please look at the time stamp on the story to see when it was last updated.
ST. LOUIS, MO (KTVI)-- Two of the top officials with the city parks department have been indicted by the federal government for allegedly ripping off hundreds of thousands of dollars from taxpayers.
Indicted are Joseph Vacca, the city's deputy parks commissioner, and Thomas Dan Stritzel, the chief of the city's park rangers. Both have been with the city for well over 20 years.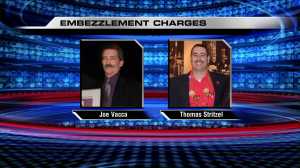 The federal indictment charges that the two officials started embezzling money back in 2005 and bilked the city out of almost $465,000.
The two men now face up to three to five years in federal prison, plus forfeiture of all their assets including their homes.