This is an archived article and the information in the article may be outdated. Please look at the time stamp on the story to see when it was last updated.
MARYLAND HEIGHTS, MO (KTVI)- On Sunday, FOX 2 received a photo from viewers angry about a receipt from Patrick's Westport Grill where the customers are referred to as "Black Couple" and there appears to be an mysterious upcharge.  The receipt is dated July 18, 2015.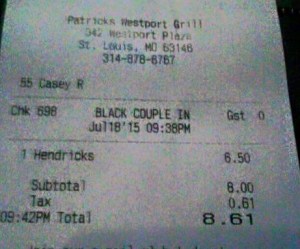 Longtime owner, Patrick Hanon, quickly took to Facebook to publicly apologize for the incident.
In the comments section on Facebook, the management goes on to explain that the employee has been terminated and that she made an "extremely bad decision when she could not remember her table numbers."
Patrick's verified the receipt and told FOX 2 that the missing $1.50 is due to a non-itemized charge for a double-shot of liquor.  Management also said that the option to label receipts with descriptive words has been removed from their system.