This is an archived article and the information in the article may be outdated. Please look at the time stamp on the story to see when it was last updated.
ST. CHARLES, MO — A dispute over a disabled parking space outside a St. Charles Target store ends with an Amazon driver shot and one man in custody.
Investigators tell us the Amazon driver is a 21-year-old man from the St. Louis area.
We`re told he was shot once in the back and is hospitalized in critical but stable condition.
The suspect is a 65-year-old St. Charles man.
The incident happened just before noon Tuesday in the parking lot just outside the Target on Mexico Road.
Police tell us the Amazon driver pulled into the disabled space and was talking to another Amazon driver when the suspect pulled up.
Investigators say the suspect was apparently upset about the Amazon truck being parked in the disabled space.
Police tell us the suspect did have a handicap placard in his car.
Investigators say the suspect and the Amazon driver started arguing then the confrontation escalated when the suspect pulled out a cell phone to document the Amazon truck in the space.
Moments later, police say the suspect pulled out a gun and shot the Amazon driver in the back as he was trying to walk away.
Target customers we spoke with were shocked by what happened.
"When we got here there were a lot of cop cars and fire trucks, ambulance was just leaving with sirens on," said Michelle Kozemczak, who arrived at the store with her young son moments after the shooting.
"It is shocking.  It`s what the world`s coming to right," added Jeff Schobel as he was leaving the store.
Andre Branch works at the Target.
He was off work but came out to see what happened.
"Very stunned because it`s normally a quiet community," said Branch.
Investigators say the suspect stayed at the scene and is cooperating with police.
A gun was recovered, and the suspect remains in custody.
"It is rather appalling that somebody would be shot over a parking violation," said St. Charles Police Lieutenant Tom Wilkison.
He added, "Don`t take the law into your own hands."
Target officials would not do an on-camera interview but a spokesperson tells us workers secured the doors immediately after the shooting letting people in but not out.
An Amazon spokesperson issued a statement reading, "This is a terrible incident and our thoughts are with the driver.  We will work with law enforcement and the delivery service partner as they investigate."
We`re told the Amazon driver actually works for a contracted company and not directly for Amazon.
Neither the victim nor the suspect`s names are being released.
This photo was posted to a Facebook profile just before the shooting: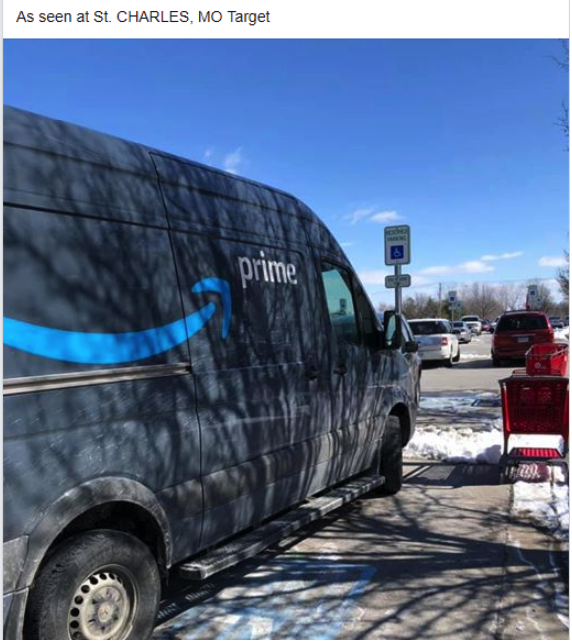 DEVELOPING: Scene at Target on Mexico Rd in St Charles where police say man shot a Amazon Prime driver after dispute over disabled parking space. We're told victim suffered apparent non-life threatening injury. pic.twitter.com/TxxrHKzMHK

— Chris Regnier (@chrisregniertv) March 5, 2019