This is an archived article and the information in the article may be outdated. Please look at the time stamp on the story to see when it was last updated.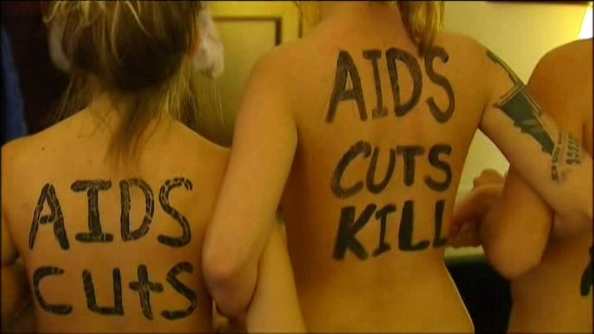 WASHINGTON — Wanting to expose the "naked truth" about potential spending cuts to HIV programs, a group of people stripped down in the lobby of House of Speak John Boehner's office on Tuesday.
As the year-end fiscal cliff rapidly approaches, business leaders are pleading with the White House to come up with a plan to avert the tax hikes and federal spending cuts that are scheduled to hit at the end of the year. But a solution seems far off — causing some to go to extremes to get their voices heard.
Three women and four men who disrobed in Boehner's office bore the words "AIDS CUTS KILL" and "FUND HOPWA" on their bodies. HOPWA is an organization that works to bring housing opportunities to people with AIDS.
Dozens of other, fully-clothed protestors joined in chanting slogans including, "People with AIDS are under attack. What do we do? Fight back."
"People with AIDS are sick and tired of being pushed over the cliff," Jennifer Flynn, 40, of New York City, told reporters. "We need to make sure they stop going after people with AIDS."
Another activist said he is HIV-positive and depends on Medicaid for treatment.
While many republicans are reluctantly warming to President Obama's call to raise tax revenue, many democrats, emboldened by the re-election, refuse to talk about any specific cuts to federal spending.
Meanwhile, President Obama is on a public relations push this week to sell his tax hikes on the wealthy, meeting with CEOs and holding a campaign-style rally in Pennsylvania.