This is an archived article and the information in the article may be outdated. Please look at the time stamp on the story to see when it was last updated.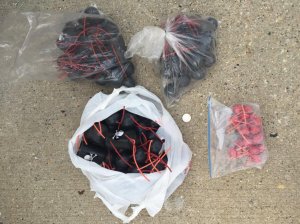 NORMAL, Ill. (AP) _ Police say they seized nearly 130 explosives from the home of a central Illinois man.
McLean County Assistant State's Attorney Emily Young says police found 128 explosives devices each containing about a half-ounce of dynamite or explosive powder from the home of 32-year-old Gilbert Wilson. Prosecutors say police also found about 19 ounces of marijuana and items used to package drugs for sale. Young says Wilson was "vague about the explosive devices and what he intended to do."
The (Bloomington) Pantagraph reports (http://bit.ly/2l6N9Oi) Wilson faces charges of unlawful use of weapons, unlawful possession of marijuana with intent to deliver the drug and unlawful possession of marijuana.
A bomb squad took the explosives for destruction. Wilson's bond was set at $25,000.
A message couldn't be left at Wilson's phone listing seeking comment.