This is an archived article and the information in the article may be outdated. Please look at the time stamp on the story to see when it was last updated.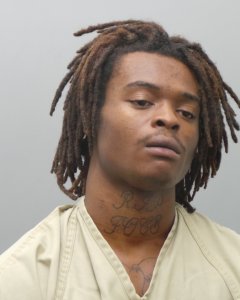 ST. LOUIS COUNTY, Mo. – Homicide detectives in north St. Louis County have a person custody in connection with a quadruple homicide from earlier this summer.  On Friday, police announced that a suspect, later identified as Ja'Vonne Dupree, 20, of the 5300 block of Arsenal Street in St. Louis, was arrested in Columbia, MO.
On Saturday, the St. Louis County Prosecuting Attorney's Office charged Dupree with four counts of Murder in the 1st Degree, four counts of Robbery in the 1st Degree, nine counts of Armed Criminal Action, one count of Burglary in the 1st Degree, one count of Stealing of a Motor Vehicle, and one count of Tampering With Physical Evidence in a Felony Prosecution. Dupree does not have a bond.
The probable cause statement reads: The four victims were found deceased in a residence on Balmoral Drive. All four died from gunshot wounds. Defendant was identified as the person who unlawfully remained at the residence on Balmoral Drive, shot each of the victims, robbed the victims of electronics and clothing, picked up multiple shell casings, and fled the murder scene in the victim's car with the stolen items.
The murders took place August 24, 2017, in the 10400 block of Balmoral Drive in Glasgow Village. Police were conducting a welfare check after family members had not heard from loved ones and 57-year-old Patricia Steward didn't show up for work.
Officers arrived at the house where they found four people shot and killed. The victims were Steward, her 10-year-old son adopted son Terrence Dehart, her 20-year-old son Joseph Corley, and Corley's friend 18-year-old Deandre Kelly.
"I love that family because we're dealing with this together. They love DeAndre. DeAndre obviously loved them otherwise he would have never been around them. Did I trust the family yes I did trust the family," says DeAndre Kelley's mother Angelia Jones.
Police say Dupree was staying at the home when he shot the victims, took their clothes and electronics, then he picked up some of the shell casings before stealing their car and driving off.
"I was never a big fan of the death penalty now I'm pushing for it after this heinous crime," says Jones.
It appears this isn't the first time JaVonne Dupree has had a run in with the law. A person with the same name and birth date was arrested for theft in Chesterfield, MO in 2015 and was on probation at the time of these murders.