This is an archived article and the information in the article may be outdated. Please look at the time stamp on the story to see when it was last updated.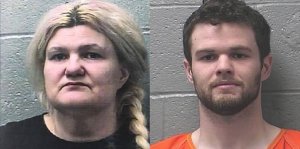 LEADWOOD, MO (KTVI) – The wife and stepson of a former KKK leader are charged with his murder. Charged in the case are Malissa Ancona, 44, and her son Paul Jinkerson, 24, of Belgrade Missouri. Authorities believe he was the trigger man. They both face charges for first degree murder, armed criminal action, tampering with evidence and abandonment of a corpse.
The county prosecutor says the murder happened in the 1100 block of Mill Street early Thursday morning. There had been an argument between the husband and wife about getting a divorce.
An autopsy by St. Francois County Coroner reveals that Ancona was shot in the head while he was in bed. Police say he was carried to a car and dumped in the Big River near Belgrade. Neighbors showed me blood stains on the front sidewalk that police believe came from Frank Ancona.
The prosecutor says Malissa Ancona had a tough time keeping her story straight when compared to surveillance video from a local business and a neighbor`s home.
"She made several statements some on Facebook to various individuals for her accounting for the event and where she was. When you have video of those thing that take place. It doesn't just match up and when you're confronted with those things its difficult to lie your way out of video evidence," said St. Francois County Prosecutor Jerrod Mahurin.
Frank Ancona described himself as an imperial wizard with the Ku Klux Klan. But the prosecutor says that had nothing to do with his murder.
The prosecutor said Malissa Ancona began looking for a roommate at the time her husband was killed. Both suspects are held without bond.